Acorn Squash Stuffed with Greens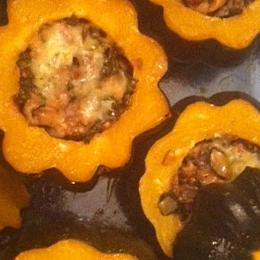 This stuffed acorn squash is a delicious vegetable side dish and is very versatile and forgiving.
Ingredients:
6 small acorn squash or three larger squash, cut in half length-wise
1 bunch Swiss chard, kale or other cooking greens
1 bag spinach, ~3/4lb.
1 medium onion, chopped
4-5 cloves garlic, minced
1/2lb. roasted, chopped chestnuts or toasted pecan pieces
1/2lb. (1 share) shiitake mushrooms, stemmed, rinsed and chopped
2T. duxelles
1/3 – 1/2c. quark or herb quark, or chevre
1c. grated sharp hard cheese, separated
olive oil
Preparation:
Cut the very tip off each squash so they will stand up. Cut the top inch off each squash and remove the seeds. Rub the cut flesh with olive oil (including the tops), put the tops back on and bake in a 400F oven for 45 minutes to an hour, until soft (not mushy).
Wash greens, separating stems from leaves, and chop each. Heat a couple tablespoons olive oil in a large skillet over medium high heat. Add onions and the stems of the chard and sauté a few minutes until translucent. Add mushrooms and garlic, and cook another five minutes. Add the greens a bit at a time, until they all fit in the pan and cooke until soft. Add chestnuts or pecans, duxelles, quark and half the grating cheese. Fill the peppers, top with remaining cheese and pop back in the oven until cheese is melted. Replace tops and serve.