Stuffed Acorn Squash in Winter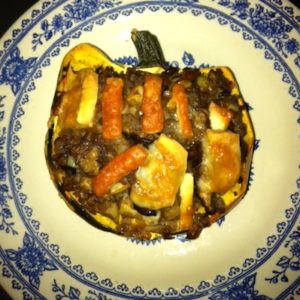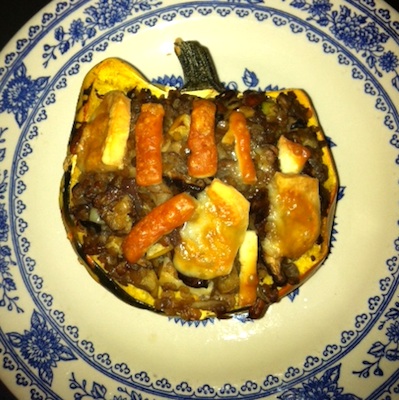 This is a recycled recipe that can be substituted with any winter squash variety and grain or legume… Desperate times call for desperate measures, and my refrigerator has never felt so lonely and abandoned as it does now. Rather than despair, I pretended it was creativity rather than lack of supplies that led to last night's meal. It did have a bit of the monochrome blues, but all in all, was quite a tasty dish.
Preparation
Being that we had to defrost the fridge recently, and taking the opportunity to dispose of things I would never admit to having in my refrigerator for so long, there were few enough items in the there to count easily (that's really saying something for my refrigerator).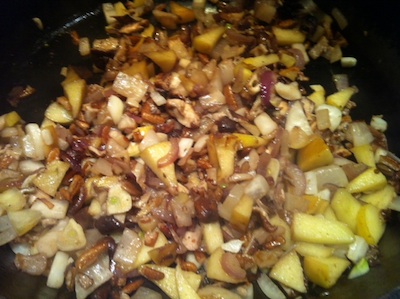 It was not a well thought out plan, but a matter of throwing together whatever was there, which was:
1 c. red lentils, covered in water and cooked about 25 minutes, until soft, and drained
1 acorn squash, halved and seeds removed
1 smallish red onion, diced
3-4 cloves garlic, chopped
3 Japanese turnips, chopped
1 small apple, chopped (used about the same volume as turnips and ate the remainder)
1 bag shiitake mushrooms, stemmed, rinsed and sliced
1/4 c. pecan pieces
3-4 T. olive oil
salt, pepper, dried red jalapenos
white truffle oil
2-3 oz. cheese, cut in small pieces or grated

Cook the acorn squash halves (microwave, steam in a pot with a bit of water or bake) until the skin gives easily on all sides. I put a little water in each half and covered them to steam them, microwaving for about five minutes. Meanwhile, prep your other ingredients and put the olive oil in a large skillet over medium high heat. When hot, add onions and stir. Allow to cook for a minute, then add the turnips, apples and half the garlic. Stir and cook for a few minutes, then add the mushrooms and pecans. Sprinkle on a hefty amount of salt, pepper and hot pepper, and stir and cook until the mushrooms are about finished. Add the other half of the garlic and continue to cook for another minute or two. Turn off heat and preheat the oven or toaster oven to 400F.
Add 1.5 cups of the cooked lentils. Mix most of the cheese into the veggies, saving a few pieces to place over the top of each squash half. Taste your mess in the pan. This is going into that acorn squash you microwaved, but didn't spice, so it can be a little long on the flavor. Does it need more salt and pepper or spice? Mine needed something, and Stephen suggested truffle oil, which happened to be just the thing. Drizzle a bit of truffle oil over; be sparing–you can always add more, but you don't want to over power it. I added probably about half a tablespoon.
Fill each squash half to overflowing and place in a baking pan. Arrange remaining cheese over the top and bake until cheese is melted–I like that golden brown burnt cheese flavor, so mine looked like this.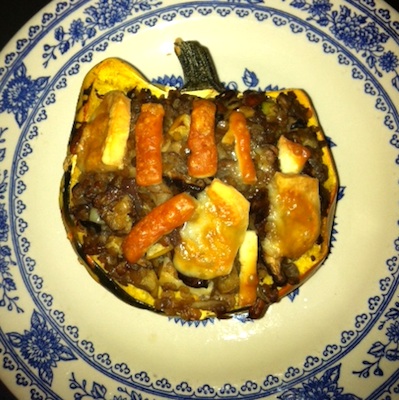 Enjoy!