We know that gift giving can be a burdensome chore, rather than the joyful experience it's often cracked up to be because, well, there just aren't enough hours in the day. We're here to help. We've put together a number of Fair Shares gift bags in various price ranges, so all you have to do is grab and go. We're also offering gift boxes from Marcoot. Tag, you're done! 
Just let us know the number of the gift bag/box you'd like and we'll have it ready at your next pickup or delivery.
1. Bloody Mary Dreams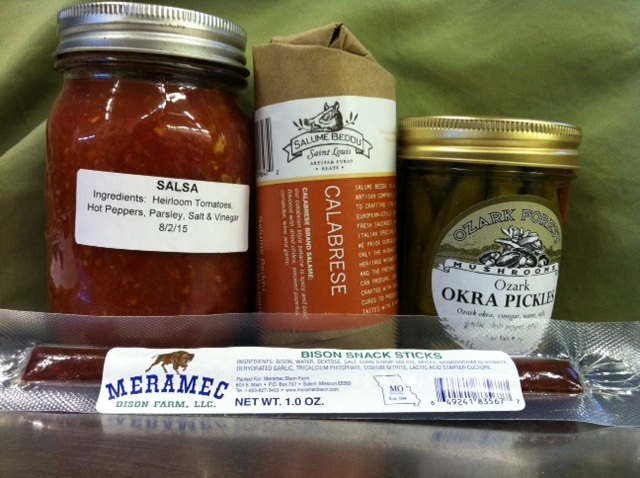 Everyone knows the perfect bloody Mary (or bloody shame for the teetotalers) is all about the garnishes and secret ingredients. When done properly, it's a meal in itself! These locally made goodies are the answer. Even if you already make a darned fine drink, the addition of Ivan's Salsa and a little pickle juice will raise your bloodies to the next level. Garnish with Ozark Forest Okra Pickles and a chunk of Salume Beddu Salame (we like the Calabrese). Stir with a Meramec Bison Snack Stick. $25.00
2. Jam Trio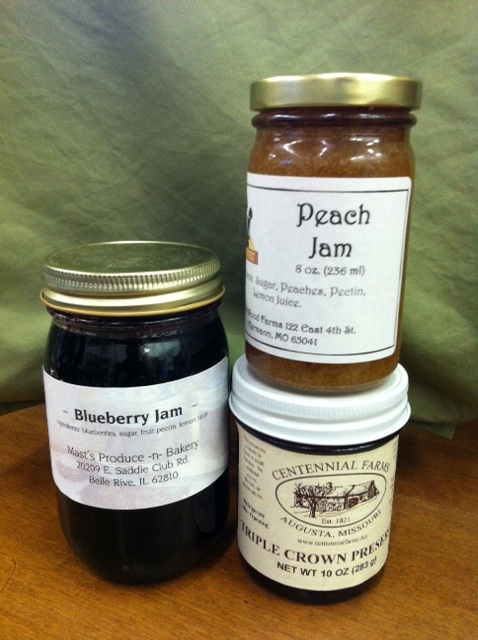 We have a varied array of amazingly delicious, locally made jams from the Hiltys, Masts, Centennial and Family Harvest (Yellow Wood Farms). We'll put a large and two small jars together in a gift bag for the sweet lovers on your list. $18.00
3. Chocolate Dreams*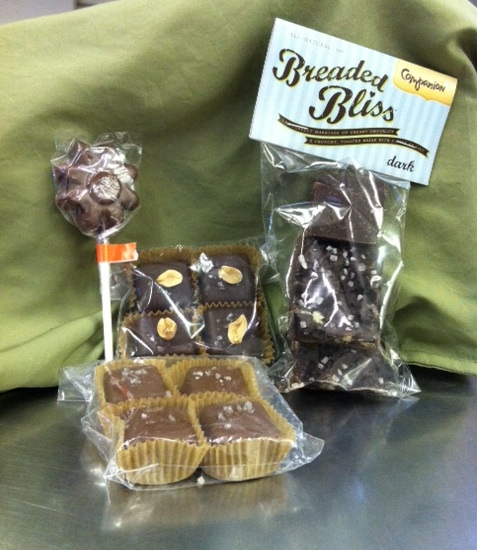 Companion Dark Breaded Bliss, Kakao Sea Salt Caramels, Kakao Peanut Butter Bon Bons and a Kakao Chocolate Lolly. We'll put in a combo of dark and milk chocolate Kakaos unless you specify your preference. $20.00
4. Party Mix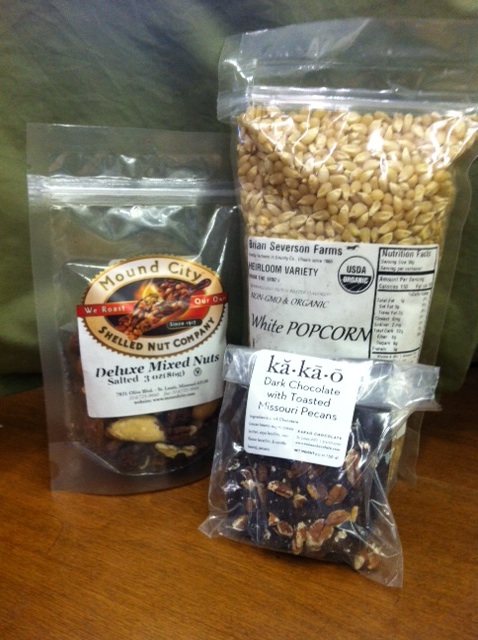 Get your sweet and your salty. Severson Organic Popcorn, Mound City Deluxe Mixed Nuts and Kakao Chocolate Bark. Pop that corn, crumble in that chocolate bark, and add the mixed nuts for a party in a bowl. $11.00
*Important Chocolate Notice: A lot of our members give chocolates for teacher gifts. Help us prepare and make sure we have what you need when you need it by giving us a week heads up if you are interested in picking up a bunch of chocolates all at once (especially if you wait until the last minute!).

Host Gifts: $10
We'll put a bow on a few items to have available for quick and easy host gifts. Choose one of the following:
5. Kreta Olive Oil and a Kakao Lolly 
6. Salume Beddu Salame and a Geisert Pork Snack Stick