Zucchini and Squash Ribbons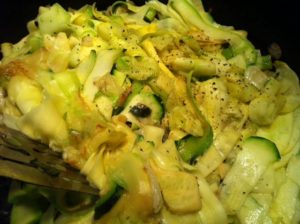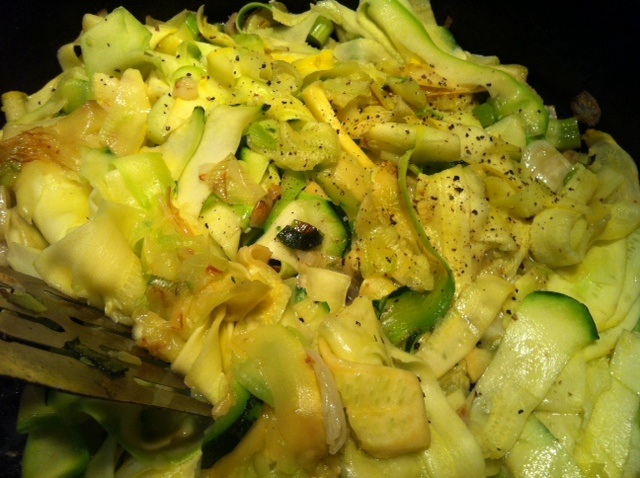 The long thin ribbons created by using a vegetable peeler give a nice texture and exciting twist to the squash, which after many weeks in the shares will be a necessary distraction. Maybe we'll post this recipe again later, but put this idea in the back of your brain, just in case. Of course, if you try it now, it will likely become part of your regular squash routine.
Preparation
Coconut oil is the secret weapon in this dish, although the delicious Kreta Reserve Olive Oil is a more-than-suitable substitute. Sometimes something as ordinary and repetitive as summer squash can benefit from a little excitement, and the tropical influence of coconut oil may transport you to somewhere fun and exotic, rather than just hot and humid.
Ingredients
1 large or 2 smaller zucchini
2 or 3 smaller yellow squash, or 1 or 2 zephyr squash
3 or 4 stalks of green garlic/green onion and green garlic, or garlic scapes or cloves
grated Marcoot Tomme, or other hard cheese
2T. coconut oil
salt and pepper to taste
red pepper flakes
Preparation
Use a vegetable peeler to peel the entirety of the squash and zucchini into ribbons. Heat the coconut oil in a large cast iron skillet over medium-high heat. While heating, chop the garlic into largish chunks or slices. Add garlic to hot oil and saute until soft. Add zucchini and squash and let cook undisturbed until it begins to brown and caramelize. Turn and allow to begin to brown once more. Add salt and pepper and a sprinkle of red pepper flakes and toss once more. Grate cheese over top and allow to melt down through. Serve immediately.