Yellow Squash and Zucchini Roll-ups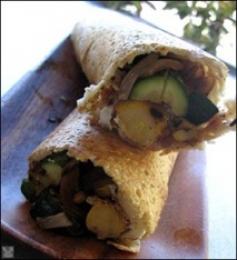 Use whatever rocks your roll to wrap up this lovely filling, whether it's crepes, tortillas, a pita, or the Indian dosa shown here (that's a batter made of rice and black dal, and looks to be worth the effort of researching and trying). Of course, we think improvisation is the name of the game, so use what you have and what suits your family's tastes.
Preparation
1 large zucchini
2 small yellow squash
1 small onion (1/2c., or green onions)
2 cloves garlic (or garlic scapes)
2 oz. mushrooms (1/2c.)
1T. butter
1T. olive oil
Salt and pepper to taste
Crushed red pepper to taste
1 to 2T. fresh herbs
Fresh chevre, or other cheese, for crumbling or grating
Sauté first five ingredients in oil and butter over medium heat until golden. Add spices and herbs. Fill wraps, top with cheese and roll 'em up!