Winter Squash with Apples (or sage)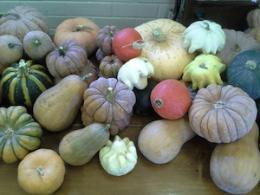 There are so many possibilities with squash and apples, but here's something simple to try, with great results practically buttoned up.
Preparation
Preheat the oven to 400F. Split winter squash (any variety) in half lengthwise with a big, sharp kitchen knife, and scoop out seeds. Core apple (and peel if desired) and chop into 1/2 inch chunks. Fill squash cavities with apple, top with a pat of butter and sprinkle with brown sugar (or a little apple juice, honey, maple syrup or apple syrup). Bake one hour and serve warm.
or…with Sage
Sage and winter squash–especially butternut, are a match made in heaven. Try baking your squash until soft (maybe squeeze a clove of garlic in each half), then scoop out the flesh and puree it with a little veggie or chicken broth and sage oil or butter (fry up a good sized sprig of sage in a couple ounces of butter or Kreta Olive oil). Add a little cream, if desired, salt and pepper, and drizzle with with more sage olive oil. Toasted cumin seeds are a nice addition also.