Winter Squash and Pepper Saute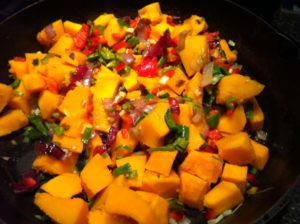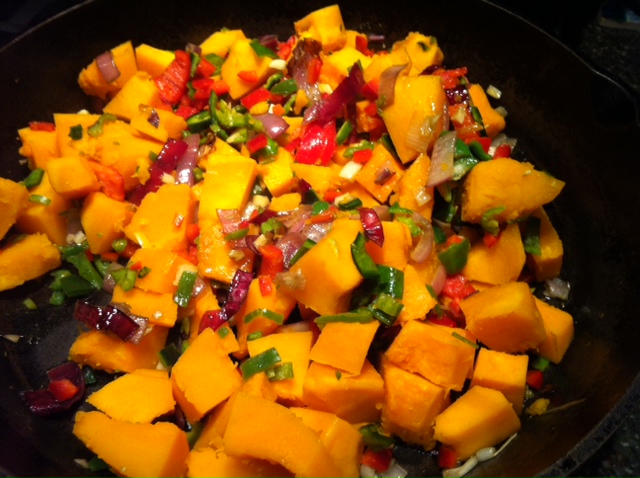 Hot peppers added a special excitement to this simple sweet and savory side dish. Try adding meatballs, sausage or other cooked ground meat, and a sprinkle of cheese. Then serve over pasta, rice or salad for a square meal.
Preparation
Ingredients
1 medium-large winter squash
1 large red onion
3-4 hot peppers of varying heat – we recommend Ozark Forest Pickled Hot Peppers when fresh peppers aren't in season
2-4 cloves garlic, sliced or minced
2-4 T. olive oil
salt and pepper to taste
Preparation
Cut the squash in half and scoop out the seeds. Place in a microwave-safe bowl and microwave on high for 5 to 8 minutes. Cover and let rest while you prep the other ingredients. You may choose to cook the squash longer;  it should be mostly cooked, with a bit of firmness, so that it can cook with the other veggies and not become mush.
Cut the onion in quarters from the top to the root, leaving the root end intact so you can hold it while you slice. Slice into 1/4-inch quarter rings. If you want less heat from your peppers, cut them in half and remove seeds and veins (wear gloves to avoid poking your eyeballs later). If you want the heat, just dice them into small pieces. When squash is cool enough to handle, cut off the skin and cut into 1/2-inch cubes.
Heat olive oil in a skillet and add onion. If your squash needs more time to cook, add it now to cook with the onion. When the onion is translucent, about 5-7 minutes, add peppers, garlic, salt and pepper. Saute an additional 8-10 minutes, allowing some caramelization. Test for consistency and seasoning, adding more salt and pepper as needed.