Trout with Tomatillo-Leek Sauce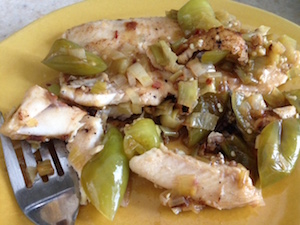 I actually made this delicious trout dish with leftovers in mind because I was wanting to make a trout dip for snack last week. Those of you picking up at the Mothership on Thursday had the opportunity to try it. Several people have noted that even their fishspicious spouses would eat it prepared like this. 
Preparation
Ingredients
2 leeks
1 share (.75lb.) tomatillos
1 package trout
olive oil
salt
pepper
red pepper flakes
fenugreek
garlic powder
Preparation
Trim tough tops and wilted leaves from leeks, and slice in half lengthwise from just above the root to the tips.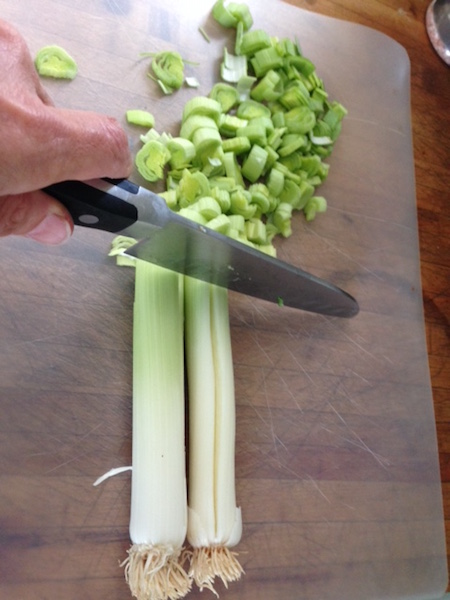 Slice thinly crosswise and place in a colander in a bowl of water to soak and rinse the dirt from between the layers.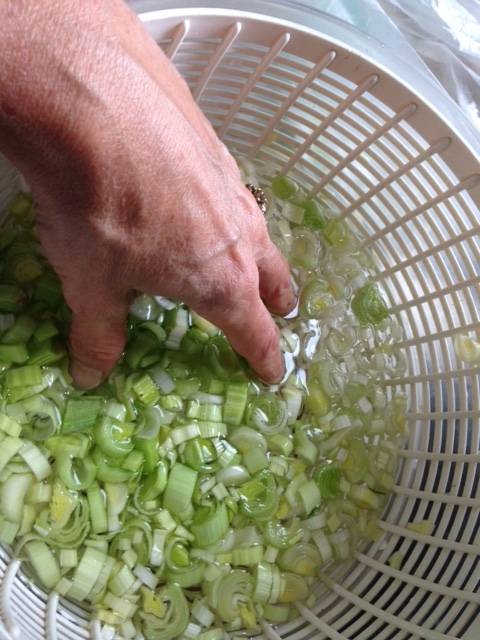 Peel the tomatillos and rub under running water (or in a water bath) until they sticky, waxy feel diminishes.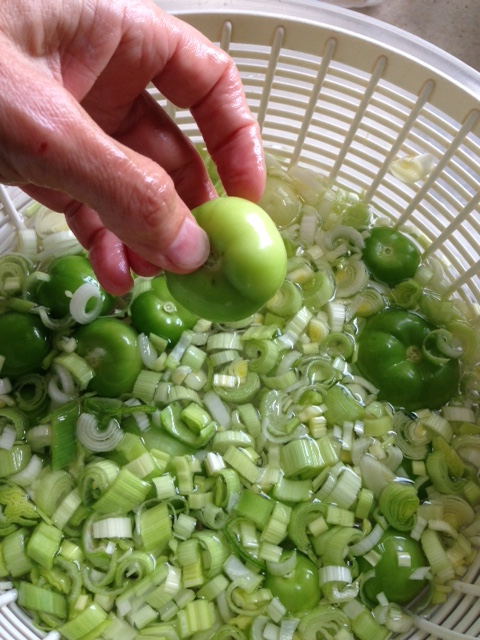 Slice or chop tomatillos into chunks (whatever size you want your sauce to be).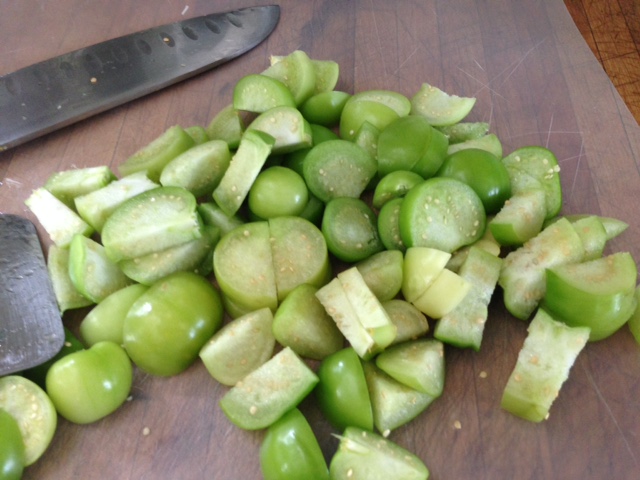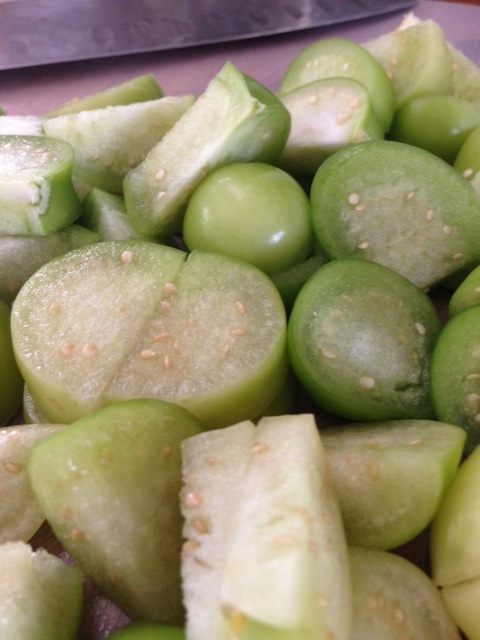 Heat a few tablespoons of olive oil in a cast-iron skillet over medium-high heat. When hot, add leeks and saute for a minute or two.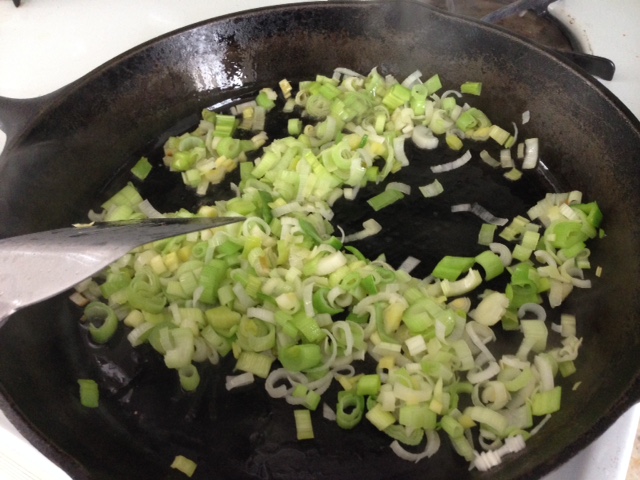 Add the tomatillos and continue to stir and saute until they begin to brown and caramelize a bit, about five minutes.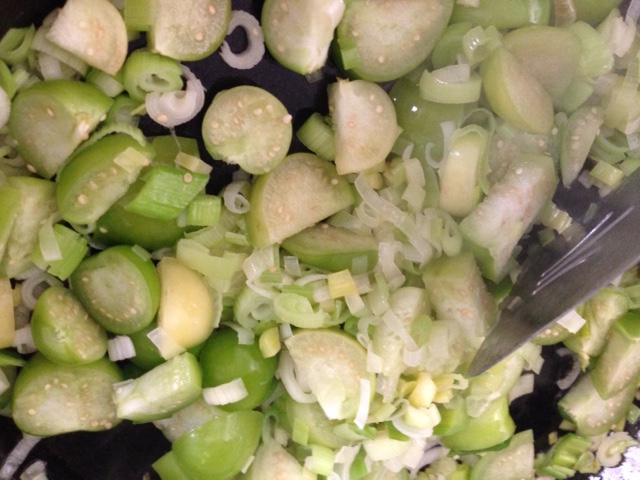 Add salt and pepper to taste, and reduce heat, allowing them to cook down for another 5 minutes. You may want to cover them to keep some of the moisture in, but we're going for a thickish sauce here. Remove to a bowl and set aside.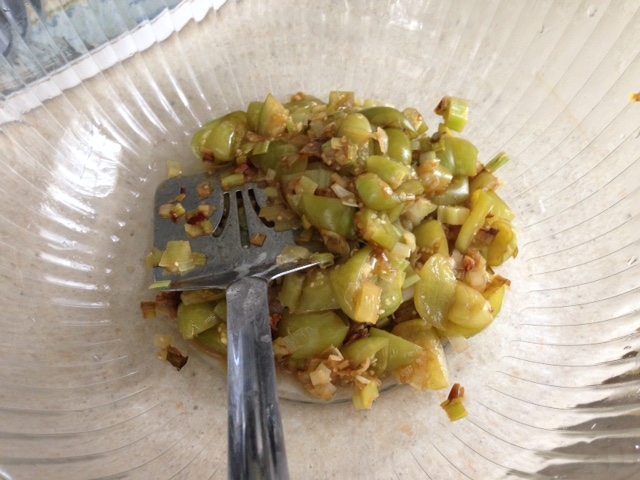 Turn the heat back up to medium high and add a little more oil to the pan if needed. Rinse and pat dry the trout. When the oil is hot, place the fillets in the pan skin-side down. Season with a sprinkle of salt, freshly ground pepper, garlic powder, red pepper flakes and ground fenugreek.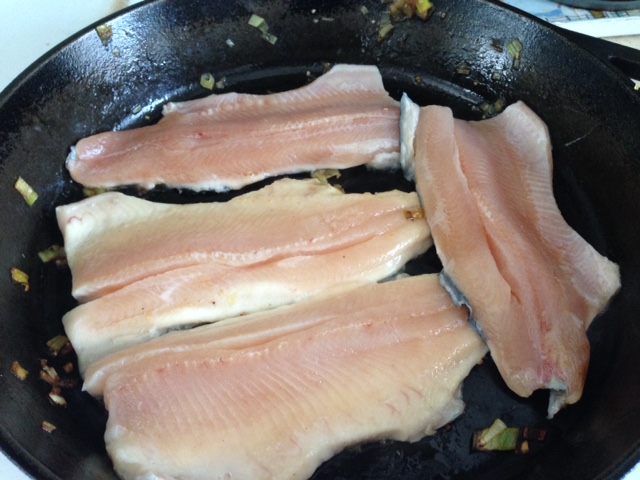 After about five minutes, when the skin begins to crisp and brown, the sides of the trout are white and the opaqueness is just beginning to move toward the center on top, turn the fillets. Remove the skins with a fork if you don't wish to eat them.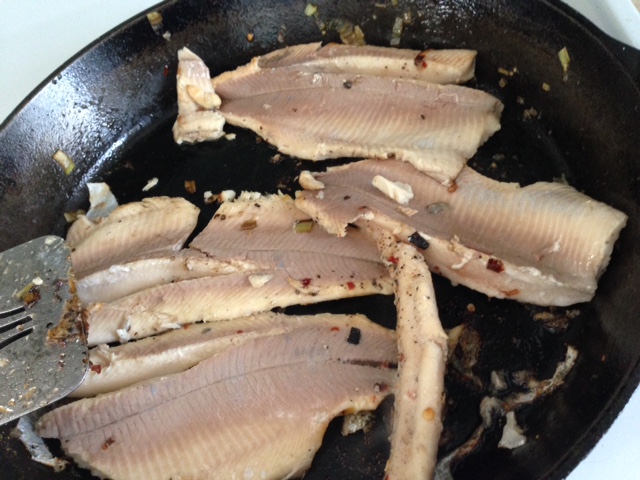 Allow the second side of the trout to brown for a couple of minutes and use a spatula to loosen them from the pan, and turn them back over to brown the other side if you've removed the skins. Spoon the sauce over and around the fish and allow to heat through.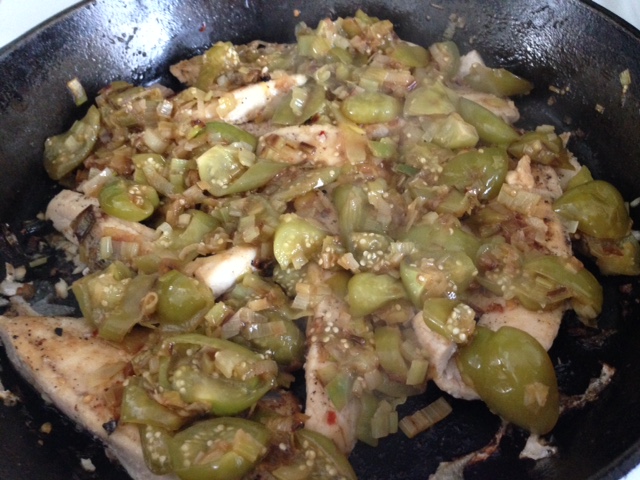 Serve as is or over rice.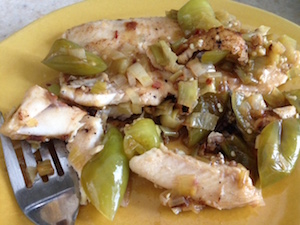 For leftovers, make a delicious trout dip, mashing all the ingredients together and adding Greek plain yogurt, a little at a time to desired creaminess.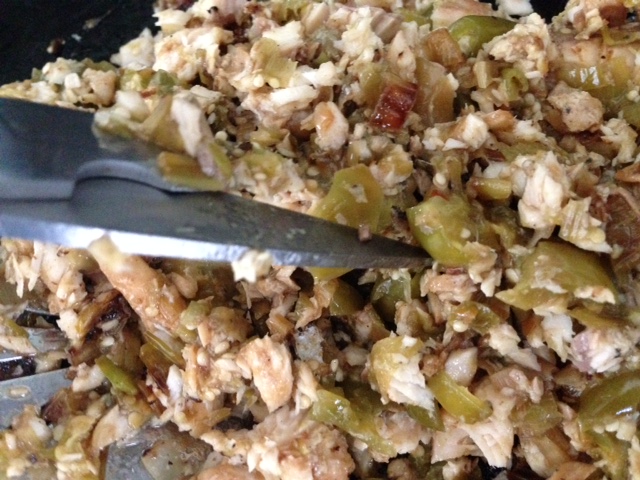 Add more of the seasonings—salt, black pepper, garlic powder, red pepper flakes and fenugreek—and don't be afraid to go a little heavy on the seasoning, especially if you're going to serve it cold. You may want to grate a little smoked gouda or cheddar in to give it a little smoked trout character. Serve with sliced cucumbers or toasted pita chips (slice up fresh pitas and place the pieces on a baking sheet. Bake in a 250F oven until crisp—about 30 minutes? (Yes, question mark—I never remember to time it to see how long it takes, and that's why I bake them at such a low temperature, otherwise I would burn them!). Enjoy.