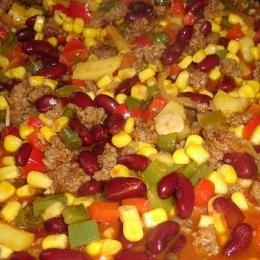 This chili with meat recipe from Jane Brody's Good Food Book serves up a great one-dish meal. You can prepare ahead
and freeze it. We often double or quadruple it and freeze half. It's good cold too. Consider adding a variety of meats,
including bison and lamb as well as ground beef. Substitute any variety or combination of cooked Bellews Creek
and Del Carmen beans for the kidney beans.
Preparation
Ingredients:
1 large onion, finely chopped
2 large cloves of garlic, or more to taste
2 teaspoons olive oil
1 pound very lean ground beef
1 quart tomatoes
2 tablespoons salt free tomato purée (I skip this)
2 1/2 cups cooked kidney beans, drained and rinsed (I use Bellews Creek black beans or Del Carmen beans
1 or more jalapeño peppers, to taste
1 cup diced green peppers (I like colored peppers better)
1 cups sliced carrots
1 cup diced celery
1 cup corn kernels
Spice Mix
5 teaspoons brown sugar
5 teaspoons chili powder
1 tablespoon ground cumin
1 tablespoon oregano
1/2 teaspoon salt, or to taste
1/2 teaspoon coriander
1/8 teaspoon ground cloves
1/8 teaspoon ground allspice
Preparation:
1. In a large, deep heavy skillet, sauté the onion and garlic in the oil until the vegetables are softened.
2. Add the meat, browning it and stirring it to break up the pieces. Drain off any fat that accumulates in the pan. Gather together the spice mixin a bowl while meat is browning)
3. Add the tomatoes and their liquid and tomato paste and all of the seasonings. Heat the mixture until it is bubbly, reduce the heat, cover the pan and simmer the chili for about 30 minutes.
4. Add the beans, jalapeno pepper, green pepper, carrots and celery. Simmer the chili, covered, about 20 minutes longer or until the carrots are softened. If desired, add corn kernels to the pot after 10 minutes. Serve as is, or sprinkled with shredded cheddar and a dollop or yogurt or sour cream. Great with a side of tortilla chips.