Mardi Gras Beans and Rice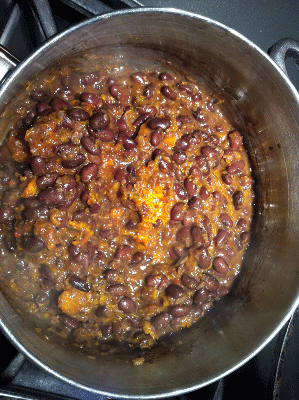 If you don't live in Soulard, you may not even be aware that it's Mardi Gras season. Having lived in the neighborhood for 26+ years, I can only say Lucky you. But we will celebrate in great taste with a big pot of semi-traditional Beans and Rice. Laissez le bon temps rouler!
Preparation
This recipe calls for red beans, but we just use whatever beans were grown for us, so this Mardi Gras season, we'll make a delicious version with Bellews Creek Black Beans and Double Star White Kidneys. This is a great recipe that makes 10 1-cup servings
Seasoning Mix
2 tsp dry mustard
2 tsp salt
1 tsp cayenne
1 tsp ground cumin
1 tsp garlic powder
1 tsp onion powder
1 tsp dried oregano
1 tsp pasilla chile peppers
1 tsp black pepper
1 tsp thyme
1/2 tsp white pepper
 
2 T olive oil
2 cups chopped onions
1 cup chopped green pepper
1 lb. smoked sausage, sliced into rounds 1/4 inch thick, then quartered (we'll use andouille)
2 T minced fresh garlic
2 T minced fresh ginger
7 cups chicken stock
1/4 c. chopped fresh parsley
1 # dried red (or black or white) beans, rinsed, sorted and soaked overnight

Day 1: Add enough water to cover the beans by 3 or 4 inches and soak them overnight in the refrigerator (I do it on the stove).

Day 2: Combine seasoning mix. Drain but do not wash the beans and set aside. Heat the oil in a 5-quart pot over high heat just until the oil begins to smoke, about 4 minutes. Add 1 cup of onions, the bell peppers, and smoked sausage. Cook, stirring frequently, for 6 minutes. Add the garlic, ginger, remaining onions, drained beans, and seasoning mix. Cook, stirring frequently, for 5 minutes, then add the stock, stir well, and cover. Bring to a boil, reduce the heat to low, and simmer until the beans are tender and starting to break, about 2 hours. Add the parsley, stir thoroughly, and remove from the heat. Serve over hot rice.