Trofie Con Salsiccia Fiama E Rapini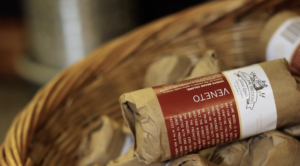 Courtesy of Salume Beddu's Mark Sanfilippo
Preparation
1 bunch fresh rapini, woody stems discarded*
Salt
4 Tbsp. olive oil
4 large cloves garlic, sliced lengthwise
1 lb. Salume Beddu salsiccia fiamma, casing removed
1 Tbsp. tomato paste
1 lb. trofie pasta (that's a spiral shape)
Red chile flakes
Locatelli brand Pecorino Romano cheese to taste
• Bring a 5-quart stockpot of water to a boil. Salt the water. Add the rapini and boil approximately 5 minutes or until tender.
• Remove the rapini with tongs or a slotted spoon, but do not discard the water.
• Place the rapini in an ice bath to stop the cooking process. Allow the rapini to sit in the ice bath until cooled.
• Drain, then chop the rapini into ½-inch pieces. Set aside.
• Bring the rapini water back to a boil.
• Add the olive oil and garlic to a large
skillet and sauté over a medium flame.  
• When the garlic is light golden and aromatic, add the sausage. Break up the sausage and distribute in the pan. Cook slowly, without stirring, allowing the sausage to caramelize.
• As the sausage begins to stick to the pan, add a little of the boiling rapini water to the pan and scrape the bottom to release the browned bits.
 
• When the sausage is at least 50 percent caramelized, stir in the tomato paste. Allow the tomato paste to cook until it starts to take on a burnt-orange coloring and the aroma changes from ketchupy to rich and delicious. Be careful at this point because the high sugar content of the tomato paste makes it overly prone to burning.  
• Carefully taste the boiling water for salinity; it should taste like the sea.  
• Add the pasta to the boiling water. Stir and allow to come back to a full boil.
• Add the chopped rapini to the sausage mixture in the skillet and stir to incorporate. If the sauce is too dry, add some of the pasta water.
• When the pasta is about a minute away from being al dente, drain it and add it directly to the skillet with the salsiccia and rapini. Stir to incorporate. Sprinkle on chile flakes to taste. Add more pasta water if necessary.
• Pour the pasta into a big serving bowl and top with Pecorino Romano and a drizzle of high-quality olive oil. Serves 4.