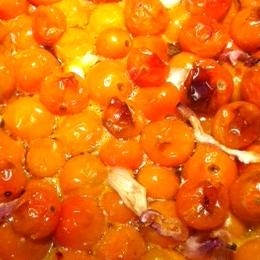 The rich, sweet flavor of sungold tomatoes makes this sauce deliciously appealing with very little effort and few ingredients.
Preparation
Ingredients
4 pints sungold tomaotes
1 medium-large onion, sliced in thin half rings
3 cloves garlic, peeled and smashed with the side of a chef's knife
sea salt
olive oil
Preparation
Preheat oven to 375F. Rinse the tomatoes and allow to drain until mostly dry while you prep the onions and garlic.
Line a baking pan with parchment paper (see photo below to see how this makes cleanup SOOOOO much easier). Toss tomatoes, onion and garlic together and sprinkle with sea salt and a drizzle of good olive oil.
Roast 25-30 minutes and remove from oven to stir. If they haven't all split, help them out to release the juice and allow it to cook down and concentrate. Cook an additional 30 minutes, or until the tomatoes are just beginning to brown.
Remove from oven and allow to cool for at least 30 minutes. Scoop out a big spoonful of tomatoes and set aside. Put the rest of the sauce into a food processor and puree. Check for seasoning. When ready to use, add in the reserved tomatoes (for appearance and texture), and several chopped leaves of fresh basil. Heat and serve over pasta, sprinkled with a good grating cheese, such as Marcoot Cave-aged Tomme.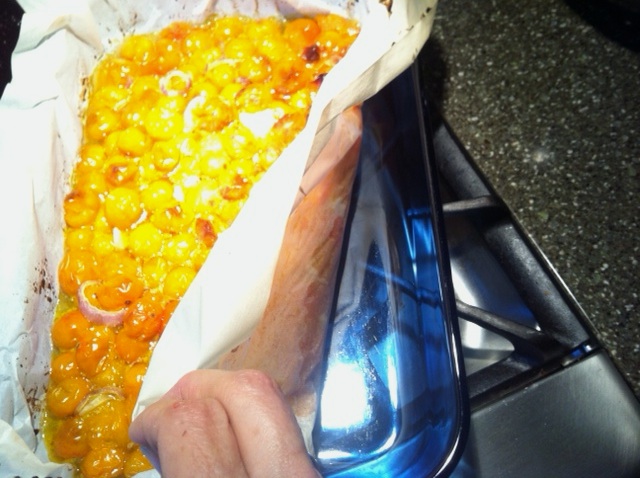 I may never roast something in a pan without using parchment paper again!