Strawberry Rhubarb Pie and Perfect Pie Crust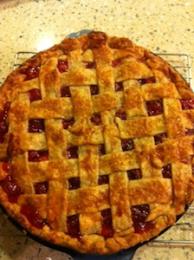 Perhaps I would say this about any pie that's on my fork, but I think this was the best pie I ever ate.
Preparation
Perhaps I would say this about any pie that's on my fork, but I think this was the best pie I ever ate.–it's certainly the best strawberry rhubarb pie. The delectably flakey crust played no little part (also the fact that I didn't have to make it myself). It's not even gone yet and I'm already fantasizing about cherry pie…oh, and blueberry!
So let's start with the crust, which is the foundation of any great pie. This pie crust is our Aunt Jan's recipe, passed down from our Grandma Choler. It makes 2  9-inch pie crusts with lattice tops. It always makes a perfect crust.
4 c. flour
1/2 tsp. salt
1 1/2 tsp. baking powder
1/4 cup sugar
1 pound butter – cold
Mix together in a large bowl with a pastry blender until crumbled together.
1/2 cup cold water
1 egg
Whisk water and egg in measuring cup and pour over pastry mixture. Stir together with a fork until it forms a loose ball. Turn onto floured board and quickly gather all pieces into a ball. Wrap in plastic wrap and refrigerate for an hour or overnight. This freezes well at this point if only making 1 pie.
The Filling Recipe came from Epicurious, here. The recipe there contains it's own pie crust recipe, but our grandma's is better, so I didn't include it here. Jamie used only about a quarter of the cinnamon in the filling because, as I agree, the cinnamon almost always overpowers the other flavors. She used only white organic sugar too.
For Filling 
3 1/2 cups 1/2-inch-thick slices trimmed rhubarb (1 1/2 pounds untrimmed)
1 16-ounce container strawberries, hulled, halved (about 3 1/2 cups)
1/2 cup (packed) golden brown sugar
1/2 cup sugar
1/4 cup cornstarch
1 teaspoon ground cinnamon (we used only about 1/4t.)
1/4 teaspoon salt

Glaze
1 large egg yolk beaten to blend with 1 teaspoon water (for glaze)
Preheat oven to 400°F. Combine first 7 ingredients in large bowl. Toss gently to blend.
When ready to roll pie dough, flour board and rolling pin. Cut ball of dough in half and then take about a 1/4 off the half for the lattice top. I find a cake spatula works best to loosen the dough from the board when ready to put it in the pie pan. It sometimes sticks and can be hard to lift off the board. Once loose, fold dough in half and then a quarter and place in pie pan. Unfold dough to fit in the pie pan. Trim excess dough, leaving 3/4-inch overhang. Roll out second dough disk on lightly floured surface to 13-inch round. Cut into fourteen 1/2-inch-wide strips.
Spoon filling into crust. Arrange 7 dough strips atop filling, spacing evenly. Form lattice by placing remaining dough strips in opposite direction atop filling. Trim ends of dough strips even with overhang of bottom crust. Fold strip ends and overhang under, pressing to seal. Crimp edges decoratively.
Brush glaze over crust. transfer pie to baking sheet. Bake 20 minutes. Reduce oven temperature to 350°F. Bake pie until golden and filling thickens, about 1 hour 25 minutes. Transfer pie to rack and cool completely.