Rustic Root Shepherd's Pie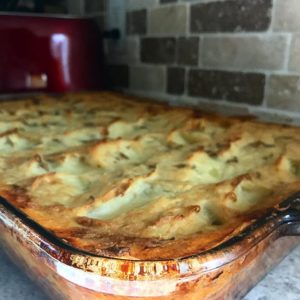 adapted from Men's Health, January 2009
Ingredients
1 pound lamb
1 tablespoon olive oil
1 onion, chopped
2 carrots, chopped
2 parsnips, chopped
1 turnip, chopped
1 cup peas
2 tablespoons tomato paste
2 tablespoons Worcestershire sauce
1 cup beer
1 cup chicken broth
Preparation
Brown the lamb in a cast iron skillet coated with olive oil over medium heat.
When the lamb is fully cookied, remove the meat from the skillet and add the chopped onion, carrots, parsnips, and turnip.
Cook the vegetables until tender, about 10 minutes.
Add the lamb back to the skillet, and stir in the peas, tomato paste, Worcestershire sauce, and beer.
Cook until the mixture is reduced by half, then add the chicken broth.
Top with mashed potatoes and bake at 375 degrees F until golden, about 20 minutes.