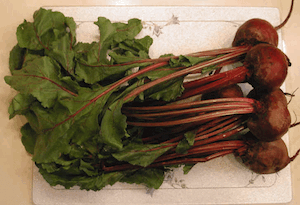 In case you didn't know, beet greens taste a lot like their cousin, Swiss chard. So don't compost those beautiful greens, cook them up! We even think they are good enough to include as a vegetable in their own right. And beet greens LOVE balsamic vinegar, too.
Preparation
1 bunch of beets with fresh green tops
3 tablespoons butter or more to taste
Salt and freshly ground pepper
Cut beets from tops. Wash beets and peel with a vegetable peeler. Cut into slices. Cut the stems from the leaves and wash well. Put the cut beets into a saucepan. Add 2 tablespoons butter and salt and pepper. Top with the leaves. Add remaining butter. Cook covered over medium heat for 5 to 10 minutes, tossing occasionally. The dish is ready when the beets are tender and juices have reduced to a few tablespoons. Of course garlic and grated hard cheese also make delectable additions. It would all be delicious added to fresh pasta coated in olive oil too.