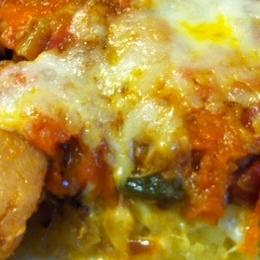 This is a great meal to make when you have time to just let the veggies roast away in the oven. It's also a great make ahead dish, because it tastes even better the second time around.

Ingredients
Spaghetti squash* (or any winter squash, potatoes or sweet potatoes)
Eggplant
Tomatoes
Sweet and hot peppers
Onions
Garlic
Mushrooms
Okra
Green beans
Beets
Any other veggies in the fridge
Olive oil
Sea salt
Black pepper
Balsamic vinegar or wine
Fresh herbs
Cheeses
Preparation
Please understand that this is not really a recipe so much as a method for making a delicious and practically foolproof dish that will be delicious, and use up all those odds and ends that aren't inspiring you, but are taking up precious real estate in the refrigerator. I usually start with two pans full of veggies when we are cleaning up all the scary produce, and they roast down to a single pan.

Wash and prepare all the veggies*, cutting off ends, removing seeds, peeling (beets and onions) and chopping everything into large pieces. Throw the garlic cloves in whole, and don't be chintzy, they're a delicacy! Toss lightly with olive oil, salt and pepper and roast in a 400+F oven, turning every 20 minutes or so for at least and hour. About halfway through, add a good splash of wine or vinegar. Let it roast until it caramelizes and browns–this builds depth of flavor and sweetness.

*I like to prepare my squash separately, either roasting or steaming until soft, then scooping out the flesh and pressing it into a pan to use as the base of my casserole. Grate your favorite cheese over the squash, sprinkle with salt and spread your roasted veggies over to cover. Sprinkle a different cheese over the top and pop it back into the oven until the cheese is melty and browning. sprinkle with fresh herbs and serve. Great cold or reheated as leftovers for lunch.