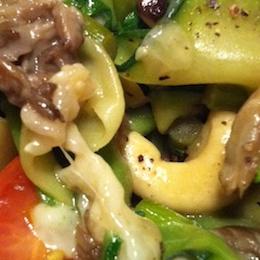 Everyone likes surprises…at least when it's food related, so if you call something "surprise" it's sure to get people excited. If you add mushrooms and cashews to just about anything, I get excited. For this splendid little wonder of a culinary treat, you'll need a vegetable peeler to make long ribbons from your squash. Be careful–the first half is easy, the last part can be a little tricky.
Preparation
Ingredients
olive oil for cooking
2-4 summer squash, ribboned
1 bag mushrooms (~.5 lb.), stems removed (from shiitakes), rinsed and torn into pieces
1 tomato, roughly chopped
2-3 garlic scapes, sliced into 1 in. pieces
handful of greens, cleaned and torn into bite-sized pieces
cheese for grating over the top
sea salt and freshly cracked pepper to taste
crushed red pepper to taste
sprinkling of fresh herbs, optional
This is a fairly quick cooking, high temp stir-fry. Start with getting the olive oil hot and add the garlic scapes, then squash, then mushrooms. Stir and cook for a few minutes. When zucchini and mushrooms are soft and almost cooked through, add tomatoes and greens. Stir and toss until greens are wilted and tomato is hot. Remove from heat and add cheese. Season to taste and serve.