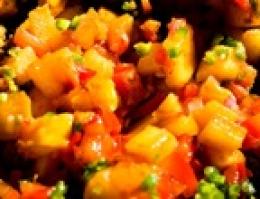 A basic salsa recipe that's delicious as is, and is easily adaptable if you want to add some cumin or peach, or substitute green tomatoes or tomatillos.
Preparation
4 tomatoes
1 green pepper
1-2 jalapeño peppers
1/2 a small onion
1-2 cloves garlic
1/2 t salt
fresh ground pepper
1 T olive oil
1/4 c cilantro or parsley
2 T lemon or lime juice
Core and remove seeds from the green peppers and jalapeños. Peel onion and cut in half. Peel garlic cloves. Toss these all in the food process and pulse until finely minced. Core and quarter tomatoes and add to the food processor. Pulse a few times until the tomatoes are chopped to the desired size. At this point, you can strain your salsa in a sieve over the sink if you prefer a less juicy/watery consistency, or turn the whole mixture into a bowl.
Add salt, parsley or cilantro, olive oil and lemon or lime juice. Mix and serve.