Simple Potato Carrot Gratin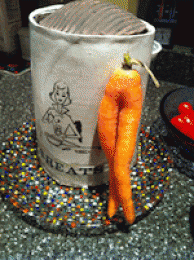 Everyone says sexy food pics entice people to try a recipe, so enjoy! This simple gratin can be altered, adjusted, seasoned as you see fit, but the simplicity here really allows the pure, delicious flavors of the produce to shine. Plus, heavy cream? I ask you, what could be bad?
Preparation
Ingredients
2 lb. potatoes
1 lb. carrots
3/4 c. heavy cream
salt and freshly ground pepper to taste
Boil the potatoes and carrots seperately in salted water until tender. Drain and mash coarsely in a large bowl with a potato masher, or in a stand mixer with the paddle fitting, if you're lucky enough to have one of those. Don't overmash, you want a bit of texture here. Season with salt and pepper and transfer to a baking dish. Top with the heavy cream and bake for an hour at 350F, or until bubbling and the top is browned and crispy.