Sweet Potato Gratin with Goat Cheese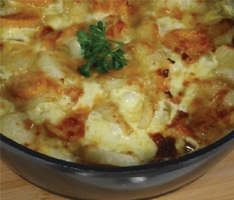 Adapted from epicurious.com
This recipe calls for a mix of sweet potatoes and Yukons, and also heavy cream and two types of cheese, so it definitely falls outside the New Year's resolutions realm…thank goodness it's almost February!
Preparation
3lbs sweet potatoes
2lbs red or gold potatoes
1 pt heavy cream
a sprig fresh herbs
2 cloves garlic, minced
1 large onion, chopped
8 oz. fresh chevre
salt and pepper to taste
Cave-aged Tomme or Gouda, for grating on top
Pre-heat oven to 300 F.
1. Peel potatoes and slice horizontally 1/4 inch thick.
2. Combine cream, garlic and chopped herbs in a bowl.
3. Layer potato in a casserole dish followed by a layer of sweet potato and onion. Pour cream, garlic and herb mixture to cover one layer, then sprinkle crumbled goat cheese on top. Layer the rest of the potatoes and onion following the same procedure.
4. Sprinkle some grating cheese and goat cheese on top of the final layer. Make sure that there's enough cream to cover the rest of the potatoes.
5. Bake one hour or until potatoes are tender. Brown the top using a broiler if desired for crunchiness.