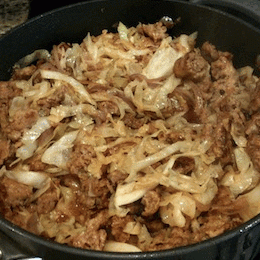 Served as a bed for poached or fried eggs, this is a great way to get your greens first thing in the morning.
Preparation
Ingredients
– 2 Tbsp Kreta Reserve Olive Oil
– 1 Pkg Breakfast Sausage or Match
– 1/2 Cabbage Head (or less for a giant head)
– 1/2 Tsp Thai Garlic Chili Paste
– Soy Sauce (to taste)
Preheat a skillet over medium high heat with the oil and brown the breakfast sausage or Match. Slice the cabbage into thin ribbons and add to the sausage. Stir in the garlic chili paste, distributing evenly through the cabbage. Saute until the cabbage is slightly browned and very wilted. Just before serving, add soy sauce to taste. A splash is usually enough.
Great with or without the sausage, you can also add diced potatoes, fennel, chard or garlic scapes.
Adapted from orangette.blogspot.com