Roasted Radish Turnip Spread OR Bacon Mushroom Cheese Dip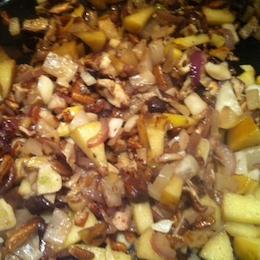 This is one recipe that offers something for everyone. Name it according to the crowd you're serving (you know, in case you're with that crowd that thinks radish-turnip sounds more appealing than bacon-mushroom). It could even be served as a side dish. It's particularly delicious served with pita bread, but crackers or a baguette are nice too.
Preparation
Ingredients
1 bunch radishes, or a share of Spanish black, watermelon or daikon radish, cut into 1/2-inch chunks
1 lb turnips, cut to be equal in size to the radishes
4 cloves garlic, whole but smashed with the flat side of a chef's knife
olive oil
1/2 cup yogurt
1/2 tsp. sea salt
1/4 tsp. black pepper
1/2 tsp. ground cumin
1/2 tsp. celery seed
4 strips bacon, chopped
4 green onions or 1/3 cup onion, chopped
2 cloves garlic, minced
3/4 cup mushrooms chopped, shiitakes are good
1/3 cup grating cheese, like cave-aged Tomme or Gouda
Preparation
Pour a tablespoon of oil in the bottom of a roasting or cake pan. Lay radishes, turnips and whole garlic in pan. Drizzle with olive oil until coated. Roast in 400 degree oven for 20 minutes or until soft. Sprinkle with sea salt and pepper. While roasting, fry the bacon until crisp, remove from pan. Saute onions for one minute in bacon drippings and then add minced garlic and mushrooms. Cook for 3 minutes, stirring occasionally.
Puree the roasted vegetables with yogurt, including as much oil olive and salt as you can get from the pan. Add cumin, celery seed, bacon and mushroom mixture. Pulse a few more times in processor so mushrooms are minced. Stir in all but 2 T. cheese. Taste and adjust seasonings. Add more yogurt if too thick. Transfer mixture to an oven proof serving dish, top with remaining cheese. Heat in oven at 350 degrees until cheese is melted. Can be refrigerated and reheated.