Roasted Beet, Avocado, and Arugula Salad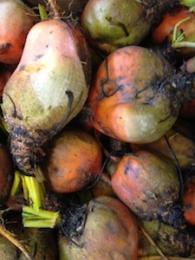 Adapted from Cooking Light, November 2005
Beets are back in season–thankfully so is arugula. Mmmm.
Preparation
Adapted from Cooking Light, November 2005
1 pound fresh beets
2 tablespoons water
3 tablespoons fresh orange juice*
2 tablespoons extra virgin olive oil
2 tablespoons sherry vinegar
1/2 teaspoon sugar
salt and freshly ground black pepper
1/2-1 large avocado, peeled
1/4 pound arugula (or other favorite green)
1/3 cup vertically sliced red onion
2 tablespoons chopped pecans, toasted
*if you used a fresh orange, include some slices in the salad
Preheat oven to 375F. Remove root and stem on beets; scrub with a brush. Cut beets
in half; place in a 13 x 9-inch baking dish. Add water. Cover with foil, and bake 1 hour
or until tender. Cool; rub off skins. Cut beets into 1/2-inch slices.
Combine next 6 ingredients (through pepper) in a small bowl. Toss half of juice
mixture with beets. Cut avocado in half lengthwise. Slice each half into 12 slices.
Place arugula on a platter; top with beets, onion, and avocado.
Drizzle remaining juice mixture over salad, and top with pecans. Serve immediately.