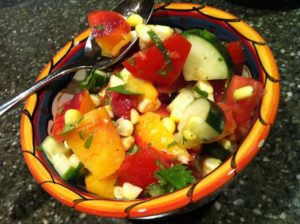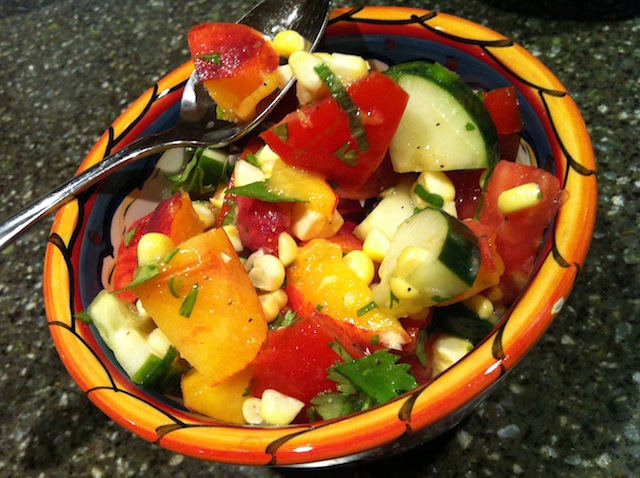 I know this photo looks a lot like the Tomato Cucumber Peach Corn Salsa/salad recipe, but it's just a before shot. This is delicious as a salsa, salad AND soup. It's perfect. Enjoy!
Preparation
One each, more or less, to taste, 
-Fresh tomato, cut into cubes
-Peach, cut in cubes
-Cucumber, cut in cubes
-Sweet Pepper, cut into cubes
-Hot Pepper, minced
-Raw sweet corn, freshly shucked off the cob. Do this with a sharp knife over a big bowl: just run the knife along the length of the cob at base of the kernals. It can be messy, so a large bowl catches the flying kernals.
-Herb of choice
Mix all ingredients together. It doesn't really need a dressing, but a light sprinkle of salt and pepper and a little fresh basil, mint or cilantro will brighten it up nicely. If you want a little more zing, sprinkle with lemon juice, vinegar or your choice (balsamic, rice, wine or cider are all delicious), or a dollop of plain yogurt. If you like. Puree with the stick blender or in the food processor or traditional blender. Drizzle with olive olive oil and or date balsamic vinegar.