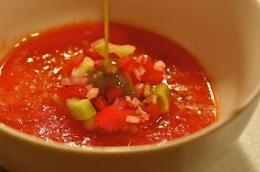 from Spanish Regional Cookery by Anna MacMiadhachain
Ingredients
2 T. stale breadcrumbs
2 cloves garlic, crushed
1 T. wine vinegar
1 T olive oil
1 green pepper, chopped
1 onion, chopped
4 tomatoes,chopped
1 cucumber, peeled, seeded and chopped
8 almonds, crushed,
pepper and salt

For garnish: cucumbers, onions, red and green peppers, tomato and hard-boiled egg, all cut into tiny cubes and served in separate bowls.
Preparation
Soak the breadcrumbs and garlic in the vinegar and olive oil for about an hour. Puree until smooth the pepper, onion, tomatoes, and cucumbers. Add crushed almonds and breadcrumb mixture. Season with pepper and salt. Dilute with water to the required consistency. Chill for several hours serve with vegetable garnish. Serves 4.