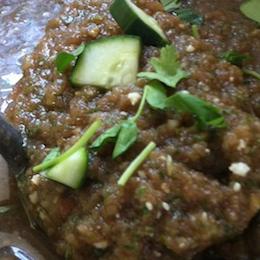 This raw, cold, blender soup is perfect for summertime when you don't want to heat up the kitchen, not to mention when those tomatoes are starting to stockpile… We know the color of this soup in the picture may not be the most appealing, but remember that green and red make brown, not gross.
Preparation
serves 4
1 large onion, chopped
1 green pepper, seeded & chopped
2 cloves of garlic, chopped
1 cucumber, peeled, seeded & chopped
8 medium tomatoes, peeled & chopped
1 T. chopped fresh parsley, cilantro or mint
8 almonds, crushed
or 3 T. bread crumbs soaked in 1 T. wine vinegar and 1 T. olive oil
up to 2 cups water
salt and pepper to taste
For garnish: finely dice raw onion, cucumber, and green pepper and serve in small bowls
Combine all ingredients except water in a blender or processor until you have a smooth puree. Turn into a large bowl and stir in water to desired consistency. Cover and refrigerate for several hours or overnight. Serve with garnish and ice cubes if desired.