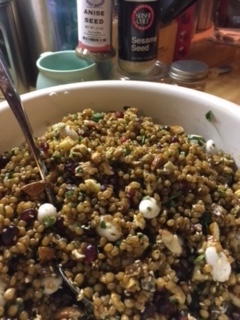 Member Elinor Hibbing told us when she picked up her share that she planned to make kolyva with the wheat berries, and she says "it came out delish, so here's the recipe in case you want to try it or share it." It sounds amazing, so thanks, Elinor, we'd love to share it!
Preparation
So, you can google Kolyva is a ceremonial memorial food in the Greek Orthodox Church, eaten on the anniversaries of deaths of loved ones to remember & celebrate them. Kinda morbid, but it's always like a party, because everyone loves it. Normally the recipe is like 2-3 times this big (for an entire church community) and some of the sugar would be sifted all over the top to look white, some of the almonds left whole to decorate with, but I am making this just for my family to EAT, so I cut it down and left off the instructions for decorating. Here you go:
Kolyva
2 cups wheat berries
1/4 cup sesame seeds
1 tsp anise seeds
3/4 cup walnuts, chopped
3/4 cup almonds, chopped
3/4 cup golden raisins
1 tsp cinnamon
1/3 cup minced parsley
1/2-1 cup fresh pomegranate seeds
1 cup Jordan almonds
1 1/2 cup powdered sugar
Rinse the wheat berries & place them in a large saucepan. Add enough water to cover by 2 inches, along with a few pinches of salt. Bring to a boil over medium heat & cook until the berries are tender & beginning to split but not mushy, about 1 3/4 hours. (Add more water to the pot when the liquid reduces to the level that the wheat no longer floats, & stir from time to time so the berries don't stick to the bottom.) Drain & set aside in the strainer to cool & dry for at least 1 hour or up to several hours.
Place the cooled wheat berries in a large mixing bowl. Toast the sesame & anise seeds in a heavy pan until light golden, then add them to the bowl. Add the walnuts, almonds, Jordan almonds, raisins, cinnamon, parsley, & the pomegranate seeds. Add the powdered sugar and toss it all together.
Be sure to store in the fridge because the wheat berries can ferment at room temp. Although obviously not it's traditional use, it makes a great healthy breakfast or snack!