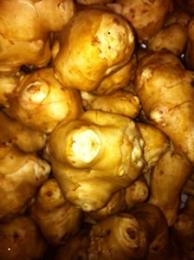 A creamy, nutty soup topped with broiled cheese bread. Yes, please!
Preparation
Ingredients:
2 T butter
2 T olive oil
1 large onion, chopped
1 garlic clove, chopped
1 celery stick, chopped
1 1/2 lb Jerusalem artichokes, peeled and chopped
5 cups vegetable stock
1 1/4 c. milk
8 slices French bread
1 cup soft melty cheese, like gouda or havarti, grated salt and freshly ground black pepper
Preparation:
1. Heat the butter and oil in a large saucepan, and cook the onion, garlic and celery over a medium heat for about 5 minutes or until softened, stirring occasionally.
2. Add the prepared artichokes and cook for a further 5 minutes.
3. Add the stock and seasoning, Bring to a boil, then simmer for 20—25 minutes, stirring occasionally, until the artichokes are tender.
4. Process the soup in a food processor or blender until smooth (be careful blending hot liquids–I recommend getting yourself a stick blender!). Return the soup to the pan, stir in the milk and heat through gently for 2 minutes.
5. Lightly grill the bread on one side, then sprinkle the untoasted side with the cheese. Broil until the cheese melts and is golden. Ladle the soup into bowls, and top with the cheese toasts.