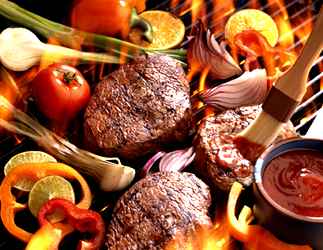 T'is the season to be grillin', fa la la la la, la la la la (go ahead, count 'em, they're all there).  Get the heat out of the kitchen and do all the cooking on the grill. Check out this cool marinade for steaks or chicken.
Preparation
We have a good selection of meat available, from beef short ribs, pork ribs, brats, chops and steaks to lamb chops and gyro meat to a variety of grassfed, dry-aged steaks, plus chicken, and the usual array of ground meats.
Check the store for pricing and availability. Try a delicious lamburger made with equal parts ground lamb with beef, bison or pork. Spice it with a little toasted cumin seed and garlic chili oil for a marvelous twist on a favorite standby.
Here's a winner of a marinade for steak or chicken. It's so simple but oh so good!
– 1/2 cup soy sauce
– 1/2 cup white cooking wine 
– one large clove garlic or a generous shake of garlic powder if you wish.
Marinate meat at least two hours, up to 24. Grill to perfection along with your veggies. Ooo la la la la, la la la la.