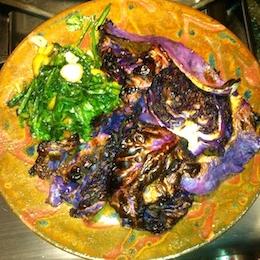 The photo looks a bit psychedelic with the purple cabbage and bright green vitamin greens, but really, it's food. It's a big, thick, juicy cabbage steak. What? Mmmmm…Trust me on this. The giant green cabbages we got in this week will be perfect prepared like this. 
Preparation
Ingredients
1 head green or red cabbage
Kreta reserve olive oil
Salt, pepper, seasonings of choice*
*This dish can take just about any ethnic cuisine–think cayenne pepper, steak seasoning, dry rub, cumin seed, curry, fenugreek, you get the idea.
Preheat broiler on low, if available, otherwise position broiler rack about six inches from flame. Slice cabbage into 1-inch (or thicker) steaks, being careful not to break them apart (but if you do, it's now shredded cabbage steak). Arrange on broiler pan and drizzle liberally with olive oil. Sprinke with salt, pepper and your favorite seasonings. Place under broiler until cabbage turns golden brown or even chars. You may need to shift the pan around in the oven to cook all the steaks evenly. Using a pancake turner, carefully flip the steaks over and if they are drying out, drizzle on a little more oil and seasonings. Return to broiler and let this side char a little.
Vegan steak–unless you want to shred a little hard cheese over them…did we say Mmmm?