Fettuccine with Shiitake Mushrooms & Basil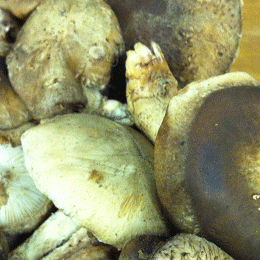 This recipe from Eating Well, incorporates many ingredients available in the shares.
Preparation
Ingredients:
2 tablespoons extra-virgin olive oil (Kreta Reserve, of course)
3 cloves garlic, minced
2 ounces shiitake mushrooms, stemmed and sliced (1 1/2 cups)
2 teaspoons freshly grated lemon zest
2 tablespoons lemon juice, juice
1/4 teaspoon salt, or to taste
Freshly ground pepper, to taste
8 ounces fettuccine, or any long pasta
1/2 cup freshly grated Parmesan or cave-aged Marcoot cheese
1/2 cup chopped fresh basil, divided
Preparation:
Bring a large pot of lightly-salted water to a boil for cooking pasta. Heat oil in large nonstick skillet over low heat. Add garlic and cook, stirring, until fragrant but not
browned, about 1 minute. Add mushrooms and increase heat to medium-high; cook, stirring occasionally, until tender and lightly browned, 4 to 5 minutes. Stir in lemon zest, lemon juice, salt and pepper. Remove from the heat.
Meanwhile, cook pasta, stirring occasionally, until just tender, 9 to 11 minutes or according to package directions. Drain, reserving 1/2 cup cooking liquid. Add the pasta, the reserved cooking liquid, cheese and 1/4 cup basil to the mushrooms in the skillet; toss to coat well. Serve immediately, garnished with remaining basil.