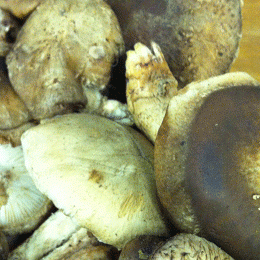 Broil up this crispy deliciousness to top your soups or salads, or include in a grilled cheese sandwich for that little something special.
Preparation
Ingredients
1 share (~.5 lb.) shiitake mushrooms, stemmed, rinsed briefly and sliced into 1/4-inch strips
2-3 cloves garlic, smashed with the side of a kitchen knife, peeled, and coarsely chopped
1+ T. olive oil
Coarse sea salt
Pre-heat the broiler (I often use the toaster oven). In a baking dish, sprinkle olive oil and salt over mushrooms and garlic. Toss to coat evenly (I sometimes use my fingers). Place under the broiler, stirring every few minutes until some are crispy, about 20 minutes. Remove and nibble several pieces to make sure they are safe to eat. Set aside until ready to use.