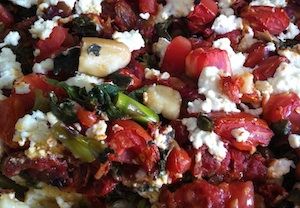 This is not lasagne, because we aren't using lasagne noodles. But it is pasta in a crockpot and it is super versatile and fairly forgiving. Use what you have in the house. Omit the items that don't sound good, and add others that do.
Preparation
Ingredients 
* 2 jars (qts.) Hilty tomatoes, including juice (puree or chop the tomatoes)
* 1 pound Midwest pasta (if long noodles are used, tear in halves or quarters, and separate well)
* 1 or 2 pounds meat. Use a combo of ground, or Italian sausage, or stew meat, or replace the quantity with veggies.
* 1 cup finely chopped onion
* 3 cloves garlic (to taste)
* 1 teaspoon sea salt (to taste)
* 1/4 teaspoon pepper (to taste)
* 1/4 cup chopped fresh parsley, and or
* 2 tablespoons fresh basil and/or
* 1 teaspoon dried thyme
* 1 share Ozark Forest Mushrooms, rinsed and sliced or torn into chunks
* 1 1/2 cups ricotta cheese
* 1/4 c. pesto, or pea shoot pesto, or chopped shoots, any variety
* 2 cups grated Havarti or Gouda cheese, separated
* 1 cup grated Caved-aged Marcoot cheese (your favorite)
Mix any herbs you are using with your tomatoes so they will cook together and flavor the sauce nicely. Layer ingredients into the crockpot, starting with a third of the tomato on the bottom. Then add half the pasta, the ricotta, the pesto/shoots (you can mix the ricotta and pesto together before, if desired), half the gouda, the meat, the mushrooms, and a little more sauce. Then add the rest of the pasta, the rest of the sauce, and top with the remaining cheese. I sometimes have to add cheese because I like a big browned crusty cheese top on my lasagne. Turn crock pot to low and let cook 8-10 hours. If it's not baked to golden when you get home, turn it to high for the last half hour or so.
Note: this is how I have done it with good results, but feel free to experiment. You could even stir it all together and top with the cheese, if you like.