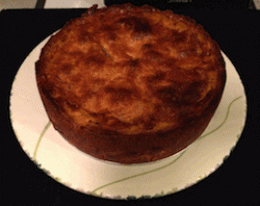 This is like a pie on steroids, with a delicious flaky crust; and it's impressive to look at.
Preparation
1 c. butter, softened
2 c. sugar
4 eggs
3/4 c. grated, peeled apples
1/2 c. rum
3 tsp. pumpkin pie spice
1/2 tsp. salt
1 tsp. vanilla
3/4 c. boiling water
1 c. raisins
3 c. flour
1 tsp. baking soda
2 c. chopped walnuts or pecans
Beat together butter and sugar until fluffy. Add eggs,
beating after each egg. Add apples, rum, pumpkin pie
spice, salt, and vanilla. Beat well. Pour boiling water
over raisins and let set. Mix flour and baking soda into
apple mixture. Add raisins and juice. Add nuts. Bake in
10″x15″ pan or in muffin tins. Bake at 350 degrees for 35
to 50 minutes depending upon size of pan.