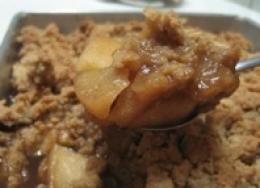 From Ellen Knoernschild at Centennial Farms. I thought apple crisp was easy anyway. This is for those of you who want it NOW and need to knock about 10 minutes off the baking time! I admit to making coffee cup brownies–I get it…
Preparation
Bottom:
6 cups sliced apples, mostly peeled
1/4 cup sugar
raisins, pecans, cranberries, etc. totaling about 1 cup, but whatever makes you happy
 
Topping:
1/4 cup melted butter
1/3 cup flour
1/4 cup brown sugar
1 tsp cinnamon
1 cup Old Fashioned oats
 
Heat oven to 425 degrees. Combine apples with sugar and whatever other items you are using. Put in 9 x 9 (or whatever) ceramic dish in microwave for 10 minutes or until apples are hot. While microwaving apples, melt butter in microwave, stir in flour, cinnamon and brown sugar and oats. Put topping on top of apples and heat in oven about 20 – 30 minutes or until topping is starting to brown.