Beet Carpaccio with Ginger-Miso Vinaigrette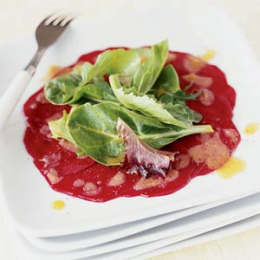 It's all about the presentation. This dish made with the chioggia beets and their lovely candy stripes is definitely guest-worthy. But with this delicious miso vinaigrette, you may just want to eat it all by yourself.
Preparation
Ingredients
3/4 teaspoon dry mustard
4 teaspoons lemon juice
4 teaspoons honey
4 teaspoons miso or soy sauce
2 teaspoons salad oil
3/4 teaspoon minced fresh ginger
2 beets (2 in. diameter, about 6 oz. each)
3 cups salad mix (1 1/2 oz. total), rinsed and crisped
Salt and pepper
Preparation
In a small bowl, mix mustard with 4 teaspoons water until smooth; let stand 5 minutes. Whisk in lemon juice, honey, miso, oil, and ginger.
Trim and discard tops and root ends from beets. Scrub beets well, then pare peel with a vegetable peeler and discard. Using the vegetable peeler or a mandoline, slice beets paper thin. Arrange slices equally, slightly overlapping, in a ring on each of four salad plates.
In a bowl, mix 2 tablespoons ginger-miso vinaigrette with salad mix. Arrange greens equally in the center of beets. Drizzle remaining dressing over beets. Add salt and pepper to taste.
Executive Chef Randal Ishizu, Oahu, Hawaii, JW Marriott Ihilani Resort and Spa, 
Sunset