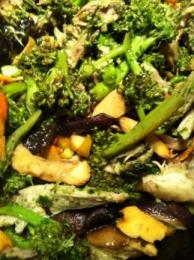 Filling Fall Flavors. Whether served on its own, or over pasta, there's something so satisfying about a stir fry made of broccoli, chicken, mushrooms and chestnuts in a homemade seasonal pesto. You can substitute whatever fall veggies are in your fridge, and this is also a great way to use leftovers.
Preparation
Autumn Tumble

Ingredients
olive oil for cooking
4-5 cloves garlic, peeled and chopped or smashed, or leave whole, per your preference
1 medium onion, peeled, quartered and sliced
1/2 lb. chestnuts, Roasted, peeled and sliced (be sure to nibble generously as you peel them–see above for instructions on roasting).
1lb. broccoli, rinsed, trimmed of big stems until no longer hollow, heads cut into florets, leaving up to two inches of stem–no need to cut off the leaves, they're perfectly edible
1 bag shiitakes (1/2 lb.), stems removed, and rinsed VERY briefly.
2 – 4 T. cooking wine or sherry
2 cups cooked chicken, cut or shredded into bite-sized pieces
~1/2 cup pesto, to taste. This can be arugula pesto, basil pesto, mizuna pesto, or whatever greens you would like to experiment with. Simply wash and spin dry in your salad spinner, puree in the food processor with a clove or two of garlic. drizzle in olive oil until a thick paste is created. Toss in 1/3 to 1/2 cup Missouri pecans and puree, and add more olive oil if needed. Add 1/2 c. grated, sharp hard cheese, such as Methuselah, parmesan, Harvest Moon, or one of Marcoot's cave aged cheeses.
salt and pepper to taste

Heat a couple tablespoons olive oil in a large cast-iron skillet over medium-high heat and add onions, sautéeing for two minutes before adding broccoli. Allow to cook until it begins to brown, and add mushrooms, tossing to coat everything. Turn and sauté until mushrooms release their juices and begin to dry again. Sprinkle cooking wine over and add chicken and sliced chestnuts. Heat through and add pesto, tossing to coat. You may need to add a little water or olive oil, and continue tossing and until heated through. Serve as a main dish as is or over pasta or rice.