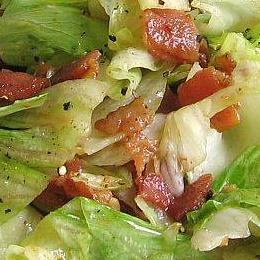 Sometimes when we hear "wilted lettuce", we feel a little sad, knowing that the poor lettuce is thirsty and has been out in the heat too long. But this wilted lettuce recipe is a cause for celebration, and we'll celebrate by eating it!
Preparation
Farmer Jeremy Sauarage of Deep Mud Farm suggests this simple preparation.
Ingredients for one person
1/2 medium head lettuce, torn into bite-sized pieces
1 slice bacon
lemon wedge
freshly cracked black pepper
 
Fry up a piece of bacon in a cast iron skillet. Remove the bacon and turn off the heat. Add the lettuce, tossing to coat. Squeeze on a little lemon juice, add crumbled bacon and grind a little pepper over the top to serve.
For a vegetarian version, heat a couple tablespoons olive oil in the cast iron skillet and cook up chopped green onion, green garlic or garlic scape. When tender, add the lettuce and toss. Sprinkle on salt, pepper and lemon juice.
The linked photo has a good looking recipe with a sweetened dressing for a variation.