It's time to dig in the dirt again! We are taking pre-orders for starter herb and vegetable plants from Biver Farms. Select the certified organic plants you'd like from the online store, under the Bedding Plants – Herbs, Flowers, Vegetables category.
Some plants will be three packs, some will be single, and will cost $2.75 each. A few varieties might be in 6-packs and cost a bit more.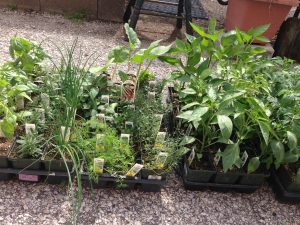 Note that these are pre-orders and you will not be charged until we receive and give you the plants.
Also note that the plants will be available over a number of weeks, meaning we will not receive everything at once and it may take a number of weeks to get all the items you request. We will keep the order list and check off items as they come in and we send them along to you.
If you are looking for something that is not on our list, just ask and we can order it for you if it's available.