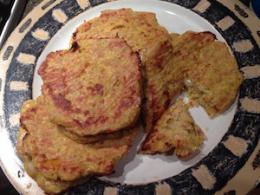 This recipe uses baked zucchini "fritters" as the bread for grilled cheese sandwiches. WHAAAT? A healthy grilled cheese? Sign me up! A food processor makes short order of the prep and it bakes up pretty quick for an easy and delicious lunch or light dinner. Adapted from a recipe sent in by forever-member Judy Boland.
Preparation
Makes 4 sandwiches
Ingredients
• 4 cups packed freshly shredded raw zucchini, not yet drained (about 2 medium zucchini)
• 2 large eggs
• ¾ cup wheat flour
• ½ cup freshly shredded parmesan (I used Kickapoo) cheese
• 1 tsp. garlic powder (next time I'll use a whole clove of fresh for a stronger garlic flavor)
• Sea salt** and pepper to taste 
• 1 cup shredded cheese of your choice (we used smoked cheddar and blue)

Directions
1) Preheat oven to 450F. Line a large baking sheet with parchment paper.
2) Add shredded zucchini to a large bowl and let sit for 10-15 minutes. Drain excess water from zucchini using a dish towel or paper towels.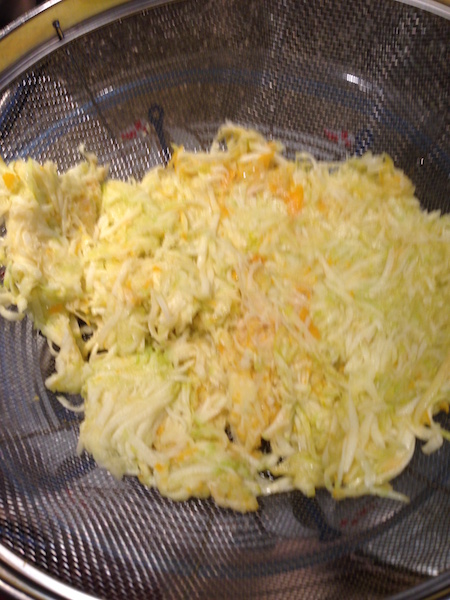 **I put the zucchini into a large sieve set in a bowl and salted it with a tablespoon or so of sea salt. I put a weighted bowl on top and  let it drain for about 15 minutes. I squeezed out the excess liquid with my hands. I think this is key to getting a drier, more solid "bread."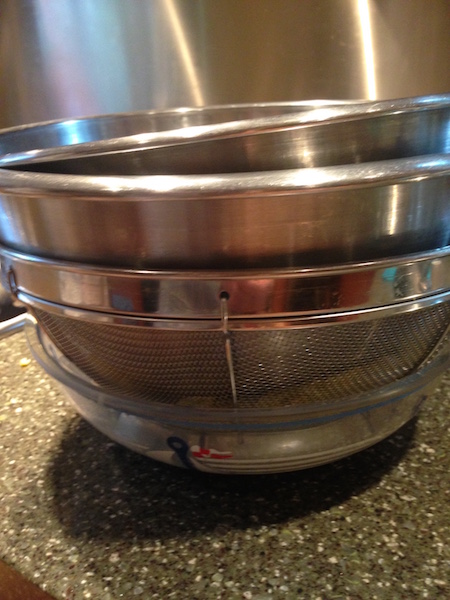 3) Add eggs, flour, Kickapoo  cheese, garlic powder, salt* and pepper to the zucchini. Stir until thoroughly combined. Note that I did not add more salt here since I salted the zucchini and did not rinse it, but it actually could have used a sprinkle.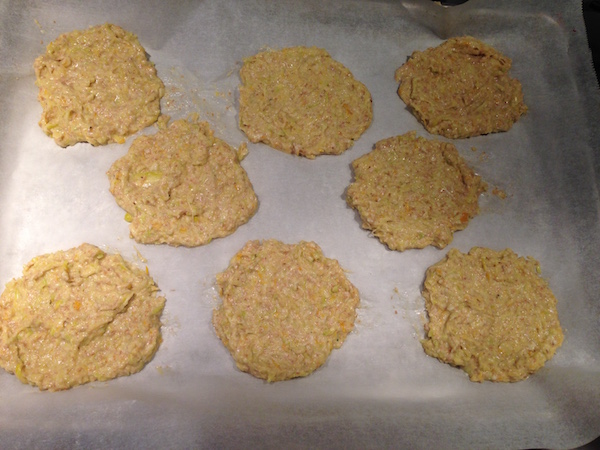 4) Divide zucchini batter evenly into 8 servings and place on baking sheet. Use a spatula to thin and spread out the batter to form 8 squares. (I kind of forgot about the "square" part and just did circles.
5) Bake in the oven for about 15 minutes or until the surface starts to brown. Using a spatula, gently flip over and cook an additional 10 minutes.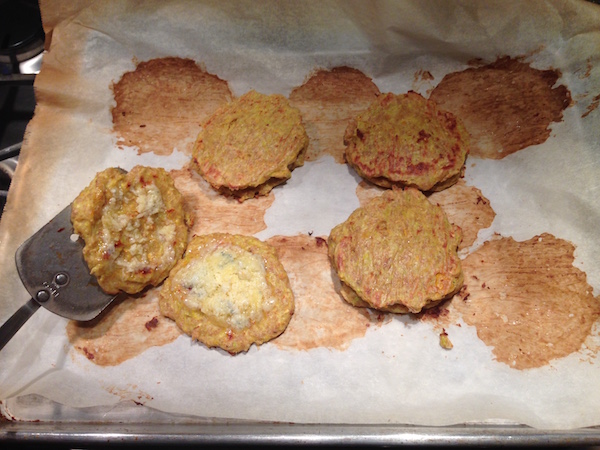 6) Assemble sandwiches: Add ¼ cup shredded cheese to 4 of the squares. Top with the remaining 4 squares to form sandwiches.
7) Place the sandwiches back into the oven and broil for 5-10 minutes or until the cheese is melted. Careful or they will burn! You may not even need to broil, but in my case it helped crisp up the outside a little.
The only other thing I may do in the future is to add a little onion, green onion or chives to the batter for extra flavor.