Todd's Most Favorite Peach Cobbler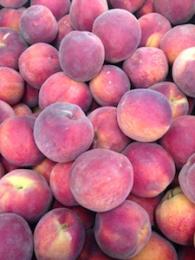 Todd of Todd's Treats, maker of those delicious olive oil crackers and pistacchio toffee, gave us his favorite peach cobbler recipe.
Preparation
Filling
4 pounds ripe, juicy peaches
1 cup sugar
½ cup unbleached flour
2 tablespoons fresh lemon juice
2 tablespoons Amaretto
 
Topping
2 ¼ cups unbleached flour
¼ cup sugar
3 teaspoons baking powder
Pinch of salt (combine above ingredients and place in a zip bag and put in the freezer to chill with the butter and lard)
4 tablespoons butter, cut into small pieces and well chilled (freezer for 30 minutes minimum)
¼ cup rich tasting lard, cut into small pieces and well chilled (freezer for 30 minutes minimum)
1 egg, well beaten
Zest of 2 lemons, finely minced
1 ¼ cups buttermilk
 
2 tablespoons of sugar for topping cobbler
 
Preheat oven to 400 degrees
Peel, pit and slice the peaches. (drop peaches into boiling water for 1 minute and then transfer to a bowl of ice water – the peels will slip right off)
Stir together the peaches, sugar, flour, lemon juice and Amaretto. Transfer to a 9×13 buttered baking dish and bake 20 minutes.
 
Put the flour mixture in a bowl or food processor and cut in the butter and lard until the mixture is coarse and crumbly. Stir in the egg, lemon zest and buttermilk until a soft dough forms, do not overmix.
 
Drop the topping by large dollops over the surface of the hot peaches.  Sprinkle the 2 tablespoons of sugar over the topping. Return the cobbler to the oven and bake another 15 to 20 minutes, or until the topping is puffed and golden and the filling is thick and bubbling. Let stand on a rack until cool enough to serve. Serving temp is entirely to taste, Todd likes his hot!
 
Serves about 6, depending on your will power, or if you have people over who saw you take it out of the oven.