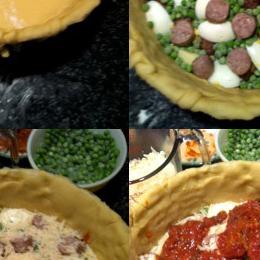 This is one recipe for timpano. Every time I make it, I do it differently, but basically, it's meat, pasta, veggies, cheese and sauce in a big baked drum of pie dough or pasta. Everything inside is pre-cooked, so you bake it together to cook the dough on the outside and melt all the cheese on the inside. It's dreamy, and the leftovers are almost better than the first time around.
Preparation
1. Pie dough, rolled out, draped over the well-oiled stainless bowl
2. Italian sausage, pork and beef meatballs.
3. Whole Wheat Rigatoni in Jamie's sauce of our canned tomatoes cooked
with a beef shortrib and said meatballs.
4. Homemade ricotta cheese.
5. Ozark Forest Mushrooms, torn and sauteed.
6. Italian sausage, casings removed, sliced, sauteed.
7. Swiss Chard, chopped and sauteed.
8. Blue Heron Chestnuts, roasted, peeled, and chopped.
9. Havarti or Gouda and Mozzarella cheeses, sliced.
10. Spinach Tagliatelle in pea shoot pesto cream sauce (yum).
11. More tomato sauce.
12. More ricotta and melty cheeses.
We then closed up the flaps of the pie crust, cut vent holes in the top, and baked it in a 350 oven for an hour, or until golden
We found that the second one we made turned out better. We cooked it for only about 30-45 minutes and refrigerated it until the party a
couple of days later. We baked it again for an hour at 350, unmolded it on an overproof platter, covered the tip top with foil and popped it under
the broiler to brown and crisp up the sides a little more. It was beautiful AND delicious. Buon apetito!