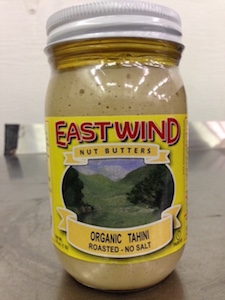 Tahini
"Dips and sauces based on tahini, or sesame seed paste, are rich and creamy, and excellent on broiled meat, chicken, fish, and shellfish. They are also good over vegetables-such as cooked cauliflower, crisp fried eggplant and zucchini, kibbeh, potatoes, and swiss chard; hard-boiled eggs; and boiled snails; and they can simply be used as a dip for pita bread.
Tahini, you see, has an uncanny ability to enrich the flavor of almost any food. It is very healthy, with plenty of B vitamins, and is an excellent source of calcium, phosphorus, and iron. Because of its unusual antioxidant makeup, it has a long shelf life. Turn the jar upside down from time to time to keep the oil from separating. When tahini is mixed with garlic, olive oil, water and spices, it loses these keeping qualities." from The cooking of the Eastern Mediterranean by Paula Wolfert
Basic Tahini with Citrus
1 cup tahini
1 tsp. garlic, peeled and crushed with salt
1/2 tsp. salt
1/2 cup fresh lemon juice mixed with fresh grapefruit juice
1/2 cup cold water
ground cumin (optional)
In a food processor, blend the tahini with the garlic, salt, and fruit juices until mixture is white and "tightens." Add the water and blend until smooth. Serve puree over fish, sprinkled with cumin, or in a small bowl with a drizzle of olive oil. Store in the refrigerator up to 5 days.
Makes 2 cups
Tahini with Yogurt
This sauce is used for fried, steamed, and baked kibbeh, and with boiled vegetables. Mix 1 cup basic Tahini with Citrus with 1 1/4 cup drained yogurt.
Makes 2 cups
Tahini with Swiss Chard Stalks or Spinach
Good sauce for fish.
2 pounds Swiss chard or spinach
1/3 cup chopped walnuts or 1/2 cup pine nuts, browned in butter or oil, for garnish
1 cup basic Tahini with Citrus
Steam, boil, or microwave the swiss chard stalks until tender or spinach until wilted; drain well. When cool enough to handle, press out all moisture. Finely chop the stalks. Mix with tahini sauce. Loosen with cold water. Allow dip to mellow at room temperature for 1 to 2 hours. Turn the mixture into a shallow serving dish and garnish with nuts. 
Makes 2 cups