Sweet and Sour Sesame Bok Choy with Pork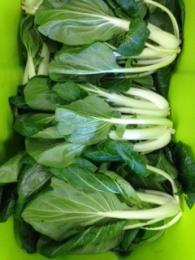 Member Joanne McAndrews shared another "newsletter-worthy" recipe with us this week, and it looks great for those of you getting bok choy in your shares. You can incorporate a good number of Fair Shares ingredients into this healthy and satisfying meal!
Preparation
This recipe comes from Cooking Light Magazine, along with a video and nuritional info.


We've highlighted the ingredients available from Fair Shares. If you didn't get bok choy in your share, you can use a different green, like Swiss chard or kale, or even broccoli or cauliflower. Don't forget the greens on broccoli and caulflower are edible, too.
Ingredients
1/2 cup unsalted chicken stock
3 tablespoons reduced-sodium soy sauce (try Ozark Forest Shiitake Soy)
2 tablespoons honey 
2 tablespoons rice vinegar
1 tablespoon Chinese hot mustard
2 teaspoons cornstarch
1/2 teaspoon crushed red pepper
12 ounces ground pork
1 pound baby or small bok choy, quartered lengthwise 
1 cup matchstick-cut carrots 
2 tablespoons toasted sesame oil
3 cups hot cooked brown rice 
2 teaspoons black or white sesame seeds (optional)
How to Make It

Step 1
Whisk together stock, soy sauce, honey, vinegar, mustard, cornstarch, and crushed red pepper in a bowl. Set aside.
Step 2
Heat a wok or large skillet over medium-high. Add pork; cook, stirring often and scraping bottom of pan with a wooden spoon to loosen browned bits, until pork is browned and crumbled, 4 to 5 minutes. Remove pork from pan with a slotted spoon.
Step 3
Add bok choy and carrots to drippings in pan; cook over medium-high until slightly wilted, 2 to 3 minutes. Add stock mixture and pork. Bring to a boil; cook until thickened, 1 to 2 minutes. Remove from heat. Stir in sesame oil.
Step 4
Serve over rice, and sprinkle with sesame seeds, if desired.