Spaghetti Squash with Spicy Soy Sesame Kale Sweet Potato Bliss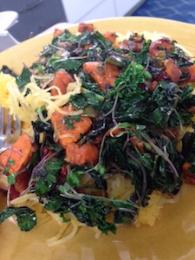 Try this super-filling, satisfyingly spicy meatless meal made entirely from Fair Shares winter ingredients (all except the sesame oil). It's simple, but exceedingly delicious. 
Preparation
Jamie cooked a delicious lunch from our usual array of slightly scary produce that we call farmer food. We know that scarred skin or a soft spot doesn't render the whole thing rotten and inedible, so we are happy to eat it ourselves. I honestly wasn't expecting this concoction to be quite so tasty. This is not to say anything about Jamie's cooking, so much as about my own typical results with the selected ingredients. Sweet potatoes dramatically improve the taste of kale, IMHO, and spinach will be delicious as well. I'm inspired and will definitely make another version of this in the the near future.
Ingredients
1 large spaghetti squash
1 bunch kale (or spinach or other cooking green), rinsed, stems removed and chopped.
2 medium sweet potatoes (1.5 – 2 lb.), peeled, if desired and cut into 1 inch chunks.
1 leek
2-3 T. olive oil
1 bag shoots, rinsed
1 to 3 whole Blue Heron Fire-Roasted Jalapenos to taste, chopped finely (three is enough to make your nose run for a while. Removing the seeds may help to make it less fiery)
2-3 T. Ozark Shiitake Soy Sauce
2-3 T. dark sesame oil
Salt and pepper to taste
1. Stab the spaghetti squash all over with a sharp knife and microwave for about 12 minutes (four minutes at a time, turning between each run), until soft. Allow to cool enough to handle. Cut in half length-wise, fluff and scoop flesh out with a fork. Microwave the sweet potato chunks four minutes at a time until tender but not falling apart soft.
2. Slice and rinse all dirt from leeks and saute in olive oil in a large cast iron skillet over medium high heat until soft. Remove from pan. Add sweet potatoes and saute to brown and caramelize a bit.
3. While sweet potatoes are browning, Reheat spaghetti squash if necessary and divvy it on to serving plates.
4. Add kale to the sweet potatoes and saute until wilted, then return leeks and toss with shoots, jalapenos, soy and sesame oil. Serve over spaghetti squash and serve immediately.

If you aren't going vegetarian or if you are serving more than three pigs like we were and you want to extend it to serve five or six servings, this could easily take a pound of meat added to the mix.