Greek Spaghetti Squash Toss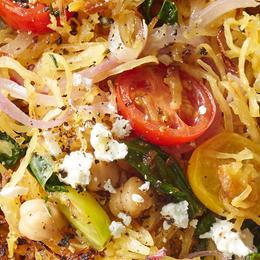 This recipe from Cooking Light was suggested by original member Joanne McAndrews. If anyone can find a delicious way to feed her family with our local seasonal food, it's her–thanks Joanne!
Preparation
The following is straight from the Cooking Light website, http://www.cookinglight.com/recipes/greek-spaghetti-squash-toss, where you'll find nutritional data and other info.
Ingredients
1 teaspoon olive oil
1/4 cup thinly sliced red onion
1/2 teaspoon minced garlic
1/3 cup unsalted chickpeas, rinsed and drained
1/2 teaspoon chopped fresh thyme
6 cherry tomatoes, halved
1 cup baby spinach, torn
Dash of salt
2 tablespoons crumbled feta cheese
How to Make It
Heat oil in a medium skillet over medium-high. Add onion and garlic; sauté 4 minutes. Add chickpeas, thyme, and tomatoes; cook 1 minute. Add spaghetti squash, spinach, and salt; toss gently to combine. Cook 2 minutes or until spinach is just wilted. Sprinkle with cheese.