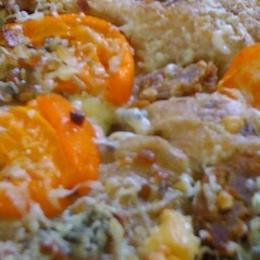 We have an abundance of frozen breads in our freezers, and want to encourage everyone to try out some recipes in preparation for the holiday stuffing coming up for Thanksgiving. We're getting into the season for comfort foods, and a nice casserole of savory bread pudding is just the trick to get you in the mood. 
There are hundreds of delicious looking recipes online, and we found this link, with the enticing text and tips below, to offer a good looking list of recipes to choose from: http://www.cookinglight.com/food/recipe-finder/savory-bread-puddings-004…
From cookinglight.com
Mention bread pudding, and most people think of dessert. But this classic dish can be made savory, too, with the same luscious, creamy texture that makes the sweet version so appealing. A frugal way to use stale bread, bread pudding combines convenience with the appeal of comfort food―a solution to the problem of dinner on a cool fall evening.
These hearty entrées are great for weeknights because they're easy to prepare. Cook the vegetables, then combine them with milk, eggs, bread, and cheese. A short soak ensures that the liquid is absorbed and creates a velvety texture. The bread pudding bakes in the oven while you make a side salad or sauté leafy greens to complete the meal. You can even assemble the puddings a day in advance to bake the next night for a hot, satisfying meal on even the busiest day.
Filled with tasty ingredients like mushrooms, spinach, cheese, winter squash, or Italian sausage, the potential flavor combinations are myriad. Use these recipes as guidelines, then experiment with your own favorite ingredients; add diced ham or chicken, use focaccia in place of the bread called for, or vary the cheese according to your taste preference. Whatever ingredients you use, the finished dish will emerge from the oven with a golden crust on top and a soft, fluffy interior.
Preparation
TIPS
• Use day-old (very dry) bread for the best texture. Very fresh bread will yield a slightly spongy texture.
• Use the bread's ounce/weight measurement as a more accurate guide than the cup measurement.
• If you don't have a kitchen scale and are measuring the bread by cup amounts, be sure not to tightly pack the bread cubes into the measuring cup, or you'll end up with too much bread.
• Leave the crusts on for more texture.Whole-grain breads give these puddings a nutty taste and a slightly drier texture. But, they can be strong in flavor, which might overpower delicate ingredients. Be sure to taste the bread before using it for a bread pudding.