Pork Chops with Pesto Pasta, Veggies and Bacon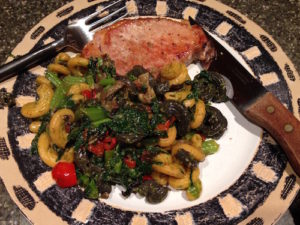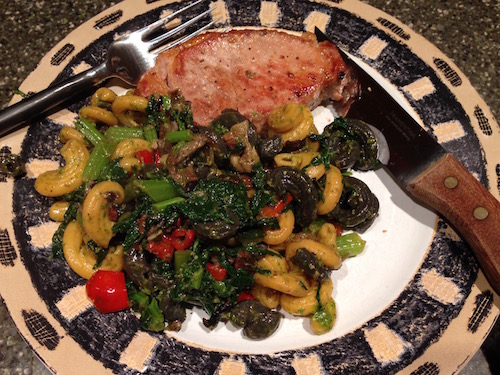 The black and orange corkscrew pasta is perfect for the Halloween season. Have no fear, though, the squid ink and squash contribute all color and virtually no flavor–it's just the usual delicious Midwest Pasta you know and love. Here we dressed it up with a marvelous saute of autumn veggies and served it alongside a perfectly seared boneless pork chop. As the Cookie Monster would say: "Nom nom nom!"
Preparation
Pork Chops with Pesto Pasta, Veggies and Bacon
Ingredients
1 lb. bi-color pasta
1 sweet Carmen or colored bell pepper, chopped in bite-sized pieces
1 poblano, jalapeno, Beaver Dam or other hot pepper, seed and veins removed (unless you like a lot of heat)
1 medium onion, diced
3-4 cloves garlic, diced
1 share (~half pound) shiitakes, stems removed, rinsed and torn or sliced into bite-sized pieces
1/4lb. chestnuts, roasted, peeled and chopped or sliced
1/2 to 1 c. pesto, to taste (I used a homemade arugula pesto, and it wasn't so sharp as basil pesto can be. Start with less and add more)
1 bu. (~3/4lb.) broccoi raab, rinsed and cut into bite sized pieces
1/2 lb. cooked bacon, crumbled (I cut it into pieces before cooking)
1c. grated sharp cheese, such as Cave-aged Tomme
olive oil and butter for sauteing (maybe 2 T. ea.)
salt and freshly ground pepper to taste
1 pkg. pork chops
lemon pepper and salt, or other seasonings for your pork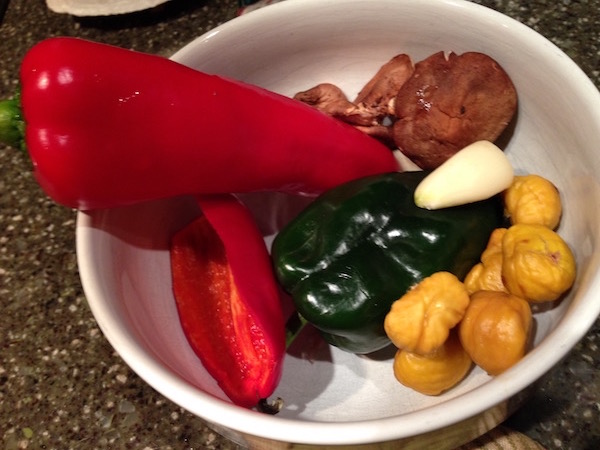 Prep all your ingredients before you start cooking. The recipe is not so daunting if you take care of a lot of prep ahead of time. The chestnuts can be cooked and peeled a day or more before and stored in the fridge. You can go ahead and cook the whole package of bacon at breakfast and just save a bit for this recipe (I cut mine up and sauteed it with a hot pepper for a little extra pizazz).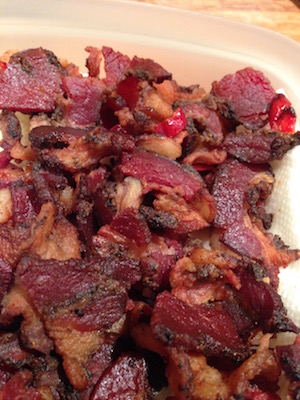 Rinse the broccoli raab, stack the leaves and roll them together so you can slice crosswise down the length of the leaf to cut them into one-inch pieces, then slice down the middle to cut each slice in half (this is the greatest time-saving trick for all cooking greens).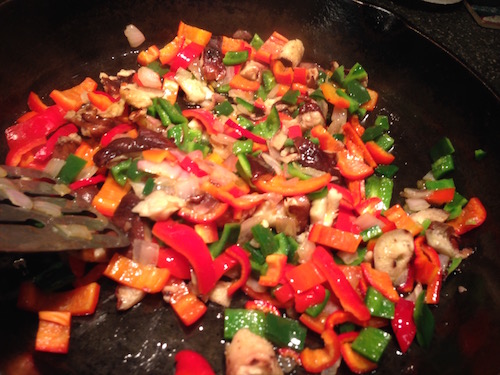 Set a pot of salted water to boil while you begin heating a large cast iron skillet over medium-high heat. When the skillet is hot, add the butter and olive oil. Saute onion and half the garlic for a couple of minutes, until they begin to soften and color slightly. Add peppers and mushrooms and saute until the mushrooms release their water. You may choose to add a splash of sherry or other cooking wine at this point. 
Add the chestnuts and the remainder or the garlic and stir. Push the veggies to the side of the pan and add the pork chops.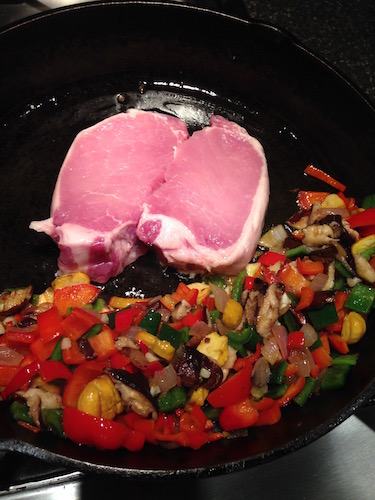 Sprinkle with lemon pepper and salt and any other herbs and spices you like. Continue to cook undisturbed for about 5 minutes. You may need to stir the veggies a bit, but don't turn the chops until they are nicely browned on the bottom.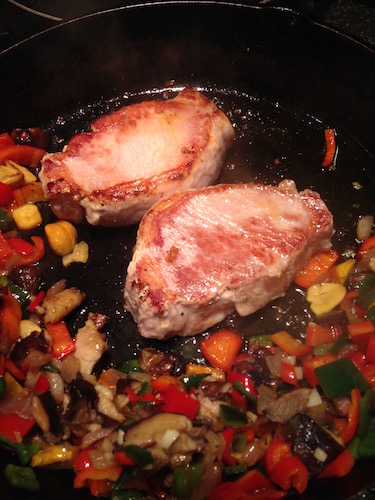 Now sprinkle the other side with herbs and spices and add the bacon to the veggies, stirring to distribute.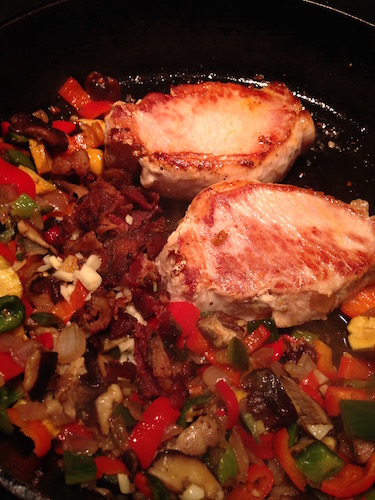 While your pork chop is cooking, you can add the pasta to the boiling water. It will take about 6 or 7 minutes to cook, maybe more.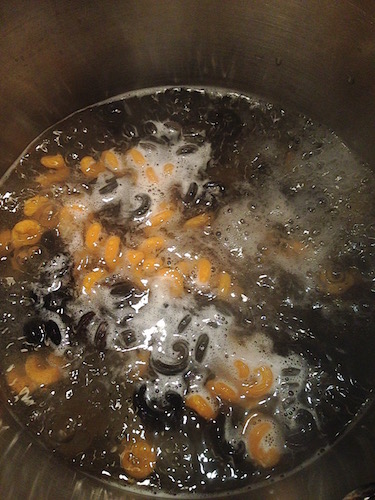 Test the pasta after about four minutes. When it's starting to soften but still needs a few minutes, add the broccoli raab.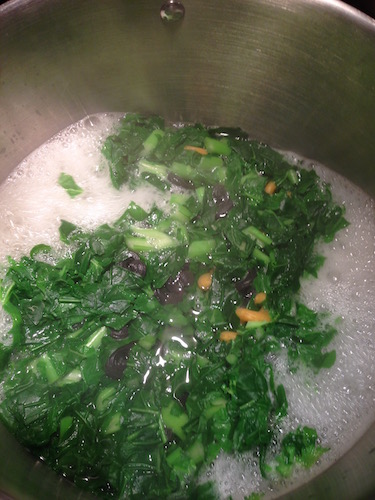 Allow to boil for a few minutes and then test the pasta again. It should be cooked al dente. Drain and return to the pot. Test the pork chops by slicing into the center of one to make sure the juice is clear–a little pink is safe (and desireable so it doesn't dry out, but the juice should be clear). Remove the pork chops to a warm plate and cover while you finish the pasta.
Add the remainder of the skillet to the pasta, along with the pesto and cheese and toss gently to coat and mix thoroughly. Test for seasoning and add salt and pepper to taste.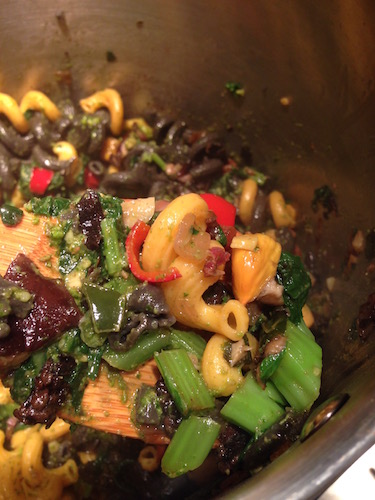 Enjoy!