Jamie's Thanksgiving Dressing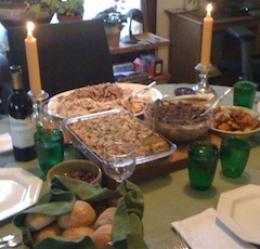 Our mother's recipe, which Jamie adapted to perfection with happy, local food. I didn't like it as a child. What a fool.
This makes awesome cold leftovers, so be sure to make extra!
Preparation
1 or 2 turkey wings and/or thighs
1 bay leaf
salt and pepper
water
Cover turkey with water in a pot, add bay leaf, salt and pepper, and cooke for 45 minutes to an hour. Cool the turkey on a plate and save the stock. Debone the turkey and chop the meat. (can be made a day ahead).
Dry 1.5 loaves white bread slices on cookie sheets 1 day ahead, turning occasionally (any companion bread would be great for this!)
1 large onion, chopped
1 cup celery, diced
8 oz. mushrooms (1 bag from Fair Shares, or more if you're a big mushroom lover)
2T. olive oil
3 eggs, beaten
1 T. poultry seasoning
1 t. salt
1/2 t. freshly ground pepper
Fry onion and celery in olive oil for five minutes. Add chopped turkey and mushrooms, cook five more minutes on low.
Tear bread in small chunks and put in large cake pan. Pour in stock, eggs, veggies, turkey and spices. Mix well. Add a little water or more stock if bread is dry. Pat down into pan. Bake at 350 (or whatever the oven is set to for the turkey) for 1 hour or until browned.