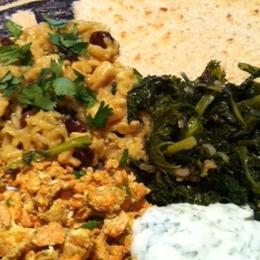 I found the recipe for Indian-Spiced Salmon Fillets and just used all the spices in my approximately one pound of flaked salmon meat. I was concerned that it might be a bit heavy on the spices because the recipe called for four 6 oz. fillets, but I erred on the side of excess, and was rewarded for my efforts!
This spice combo would work well with other meats and tofu as well.
Preparation
Ingredients
1 teaspoon ground cumin
1 teaspoon ground coriander
1/2 teaspoon ground turmeric
1/2 teaspoon dried thyme
1/2 teaspoon fennel seeds, crushed
1/2 teaspoon black pepper
1/4 teaspoon ground cinnamon
1/8 teaspoon ground cloves
1/2 teaspoon salt
~ 1lb. flaked salmon or salmon fillets
1 tablespoon olive oil
Preparation
Mix all spices together and stir into flaked salmon, or pat all over flesh sides of fillets. Heat olive oil in a skillet and add salmon, cooking just until done.
Serve with Indian Greens and Indian Rice.